Blender – Material Library Materialiq v5.0.2 Full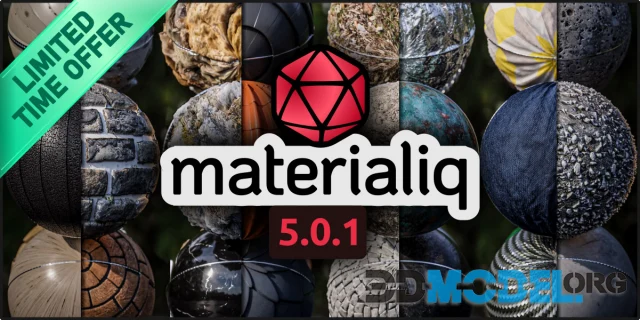 Blender Market – Material Library Materialiq – Cycles & Eevee Materials
2023/03/31 materialiq 5.0.2
Add height map for concrete material CC230, set default mapping of transparent materials to 'Object', DNR slider now takes normal map strength into account (it won't amplify normal map if Normal Map Strength is set to 0).
What's new
Blender Asset Browser Integration (yay!)
Material randomize adjustment per element/object
20 completely new materials added (6 Roofs, 12 Woods, 2 Walls)
14 materialiq4 materials ported to materialiq5
Higher resolution material previews
World settings ported over form materialiq4
Shortened material names in the polygoniq browser
4 Water materials added (animated only in aquatiq)
up to 8k materials
370+ adjustable materials
+ new materials with updates
12 categories
Feature highlights
Blender Asset Browser Integration
Explore the extensive & rapidly growing library of materials, each prepared in a consistent way and individually hand-checked for purrfection. Make use of the Blender Asset Browser's drag and drop or the polygoniq browser with filtering options.
Randomize per element
Does your material seem too uniform and flat when used on multiple objects/elements? Do you need your material more diverse looking? Simply change the Randomize Diffuse sliders for an instant improvement. The same material often comes in varying hue, saturation, and brightness based on slightly different aging/sourcing/polish etc. Achieving this with materialiq is instant – just make sure the mesh is separated by geometry or sharp edges and drag a couple of sliders!
Material displacement
Add more depth to your scene with the ever-expanding library of materials supporting displacement.
Texture bombing
Texture bombing ensures that no matter the area the material covers, it remains irregular.
Replace material
Replacing materials manually on many different objects can be hard. That's why materialiq comes with an inbuilt solution to do this en masse for the scene or only for the selected objects. All it takes is to pick the original and the replacement material.
Mapping
Anisotropic materials like wood often require UV mapping to make sure it goes in the right direction but for everything else… there's the almighty generated mapping! Allowing any changes to the geometry without having to redo the mapping.
https://blendermarket.com/products/materialiq
Version: 5.0.2 Full
Highlight text and press
Ctrl+Enter