Kassatex Rivington Accessory Kit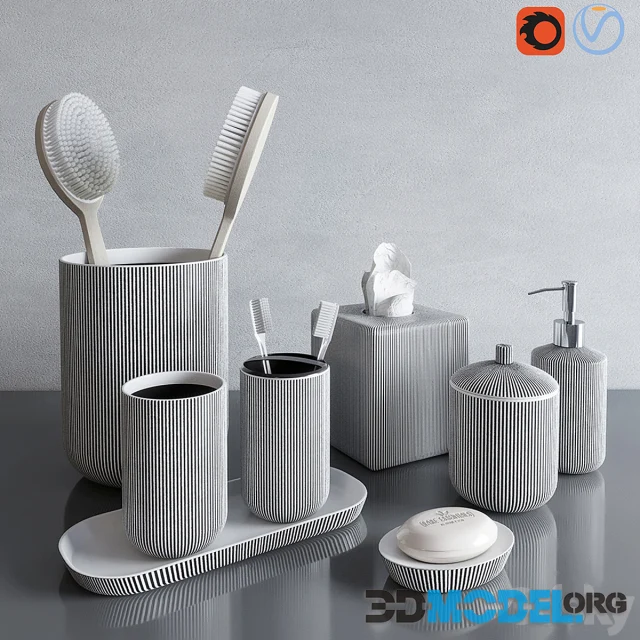 The Kassatex Rivington Accessory Kit is a bathroom accessory set designed to enhance the functionality and style of your bathroom. These accessory kits often include matching items that can help organize and decorate your bathroom space. Here are some common components you might find in the Kassatex Rivington Accessory Kit:
Soap Dispenser: This is a container designed to hold liquid soap or lotion. It usually has a pump mechanism for easy dispensing.
Toothbrush Holder: A toothbrush holder is a container with multiple compartments to store toothbrushes and toothpaste. It helps keep your dental hygiene essentials organized.
Tumbler or Rinse Cup: A tumbler can be used for rinsing your mouth after brushing your teeth or for holding small bathroom items like cotton swabs.
Soap Dish: This is a shallow dish designed to hold a bar of soap. It helps prevent soap residue from accumulating on your bathroom counter.
Tray or Caddy: Some accessory kits include a tray or caddy to hold all the items together neatly. It can also be used to carry the accessories to and from the bathroom.
Waste Bin: A small waste bin or trash can is often included in bathroom accessory kits for convenience.
Matching Design: The Kassatex Rivington Accessory Kit typically features a matching design or theme across all the included items, creating a cohesive and stylish look in your bathroom.
Materials: The materials used can vary but are often chosen for their durability and aesthetic appeal. Common materials include ceramic, porcelain, glass, or high-quality plastic.
Color and Finish: These kits come in various colors and finishes to match different bathroom decor styles. The Kassatex Rivington series may offer specific color and finish options.
Easy to Clean: Most bathroom accessory kits are designed to be easy to clean and maintain, given the nature of their use in the bathroom.
These accessory kits are a convenient way to decorate and organize your bathroom while ensuring that all the elements match in terms of design and style. The Kassatex Rivington Accessory Kit, in particular, is likely to offer a modern and elegant design that can complement a range of bathroom aesthetics. When considering this or any accessory kit, you can choose the one that best suits your personal style and bathroom decor.
3d-model is executed in detail and quality. Textures collected in the archive.
File type: MAX, FBX, OBJ
Highlight text and press
Ctrl+Enter