Catalano New Light Toilet and Bidet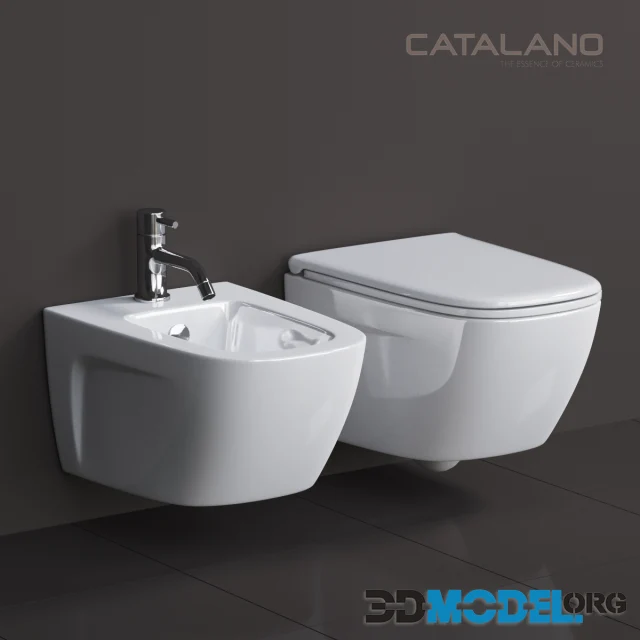 The Catalano New Light toilet and bidet set is a contemporary and elegantly designed bathroom fixture collection that combines both form and function. Crafted with attention to detail, this 3D model accurately represents the key features and aesthetics of the original product.
The Catalano New Light toilet and bidet set is a modern bathroom ensemble that combines sleek design with functionality for a luxurious bathroom experience.
The toilet features a minimalist and contemporary design with clean lines and smooth surfaces. Its elegant, space-saving shape makes it an ideal choice for modern bathrooms. Crafted from high-quality porcelain, the toilet is not only visually appealing but also durable and easy to clean.
The toilet is equipped with an efficient flushing system that ensures water conservation while effectively removing waste.
The toilet comes with a soft-close seat, adding a touch of convenience and preventing slamming.
The dimensions of the toilet may vary depending on the specific model and configuration, ensuring flexibility to fit various bathroom sizes.
The bidet complements the design of the toilet with matching aesthetics, creating a cohesive and stylish bathroom ensemble.
It provides hygienic cleansing after using the toilet, enhancing personal comfort and cleanliness.
The bidet is equipped with a user-friendly faucet, allowing for precise control of water flow and temperature.
Like the toilet, the bidet is also made from durable and easy-to-clean porcelain, ensuring long-lasting beauty and functionality.
The dimensions of the bidet are designed to harmonize with the toilet, creating a balanced and visually pleasing bathroom layout.
The Catalano New Light toilet and bidet set is a perfect choice for those seeking a modern and functional bathroom solution. With its minimalist design, quality materials, and user-friendly features, it offers both comfort and style for a contemporary bathroom space.
File type: MAX, FBX, OBJ
Highlight text and press
Ctrl+Enter