Moroso Bohemian armchair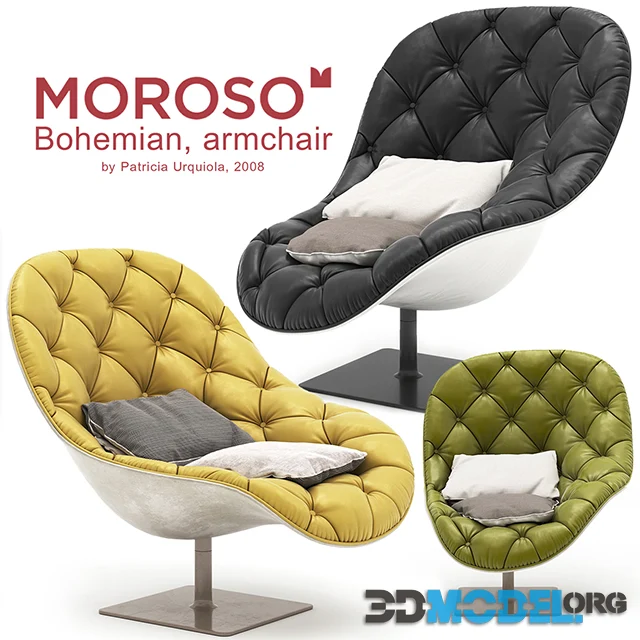 Moroso Bohemian is an elegant and stylish armchair created by the Italian brand Moroso. This is a realistic and high-quality three-dimensional model that perfectly combines comfort and aesthetics.
The main characteristics of the Moroso Bohemian chair:
Design: The chair has a refined and sophisticated design. Its shape and lines create a sense of harmony and luxury. The combination of soft and rounded shapes gives the chair a special charm and makes it an attractive element of the interior.
Design: The chair has a strong and reliable design. It is made of high quality materials, ensuring durability and stability. The frame of the chair is made of metal or wood, providing strength and stability.
Upholstery: The armchair is upholstered with soft and comfortable upholstery. You can choose from a variety of upholstery options such as textiles or leathers in a variety of colors and textures. This allows you to choose the upholstery that best matches your interior and gives the chair a personal touch.
Comfort: The Moroso Bohemian armchair provides a high level of comfort. Its ergonomic shape and soft cushion provide a comfortable fit and support for your body. You will be able to relax and enjoy moments of peace and relaxation.
Dimensions: The dimensions of the chair may vary depending on the specific model. However, it usually has a medium size, which makes it suitable for various rooms and interiors.
The Moroso Bohemian armchair is an elegant and functional solution for your interior. It will look great both in the living room and in the bedroom or office. Thanks to its realistic 3D model, it can be used in various projects to create attractive visualizations and bring your ideas to life.
File type: MAX, FBX, OBJ
Highlight text and press
Ctrl+Enter