Lema Cloud Modular Sofa Set by lemamobili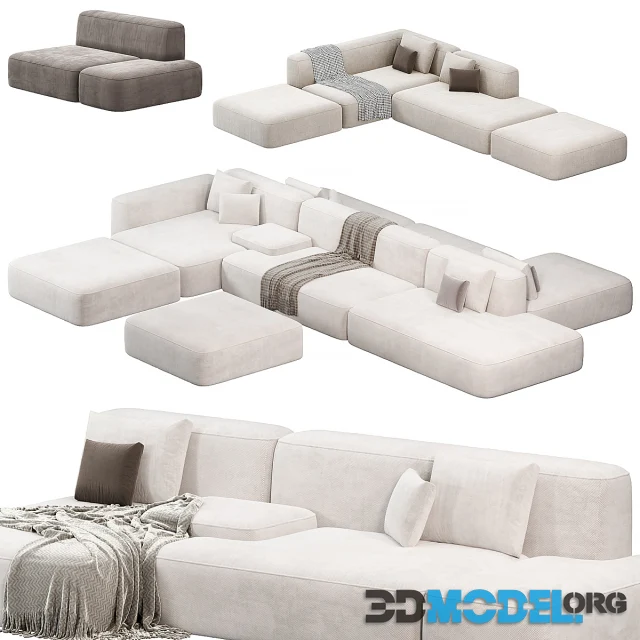 The Lema Cloud Modular Sofa Set by Lema Mobili is a contemporary and versatile furniture collection designed for modern living spaces. Lema Mobili is an Italian furniture manufacturer known for its high-quality craftsmanship and innovative designs.
The Lema Cloud Modular Sofa Set is designed to offer flexibility and customization. It typically consists of various modular elements, such as sofas, chaise lounges, ottomans, and corner units. These elements can be arranged and combined in different configurations to suit different room layouts and preferences. The modularity of the set allows homeowners to create tailored seating arrangements based on their specific needs.
Lema is known for its selection of high-quality upholstery materials. The Cloud Modular Sofa Set likely features upholstery options in fabric, leather, or both. The choice of upholstery can significantly impact the sofa's overall look and feel, offering options for both elegant and casual aesthetics. Additionally, the frame and legs of the sofa are typically crafted from durable materials such as wood or metal to ensure stability and longevity.
Comfort is a key feature of the Lema Cloud Modular Sofa Set. The seats and backrests are designed with ample cushioning to provide a comfortable and cozy sitting experience. High-quality padding and cushion materials contribute to the overall plushness and support of the sofa.
Lema offers a range of color options for their upholstery materials, allowing customers to choose from various shades and tones to match their interior decor. Additionally, the sofa's legs or base might come in different finishes, such as wood or metal, providing customization options to complement different design schemes.
The versatility of the Lema Cloud Modular Sofa Set makes it suitable for various living spaces, including living rooms, lounges, and even larger bedrooms. Its adaptable design allows it to fit seamlessly into both contemporary and more traditional interior styles.
It is a realistically executed 3D model, which is made taking into account the main characteristics of the original product.
File type: MAX, FBX, OBJ
Highlight text and press
Ctrl+Enter