Kristalia Poule and Compas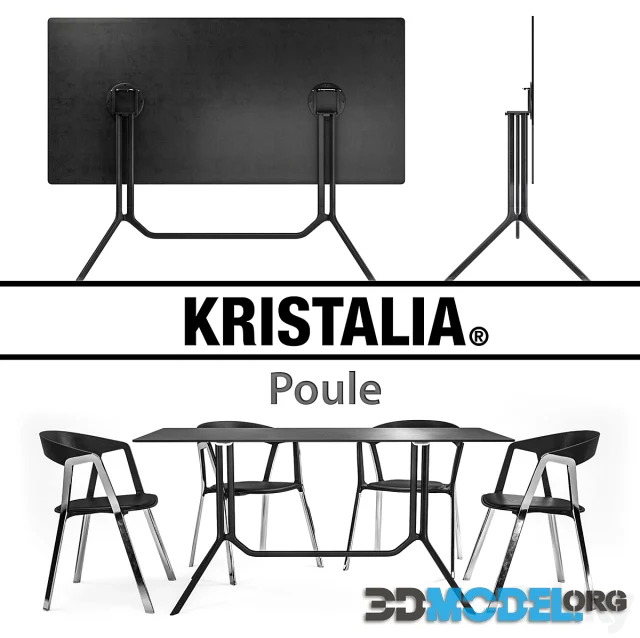 The Kristalia Poule and Compas set is a combination of modern and stylish furniture pieces that elevate any interior space. With their realistic and high-quality 3D models, they accurately represent the original products, making them perfect for various interior design visualizations.
The Poule chair from Kristalia features a sleek and minimalist design. Its curved backrest and comfortable seat provide ergonomic support, while its lightweight structure adds a sense of elegance. The chair is available in a range of upholstery options, allowing for customization to suit different design preferences.
The Compas table complements the Poule chair with its clean lines and contemporary aesthetic. The table's minimalist base and sleek tabletop create a stylish and versatile surface for dining or working. It is available in various sizes and finishes, making it adaptable to different interior styles.
The 3D models of the Poule chair and Compas table showcase their precise details, including the chair's curves, upholstery textures, and the table's base and tabletop finishes. This level of realism allows you to accurately represent the furniture set in your virtual projects, bringing a sense of authenticity and refinement to your visualizations.
The Poule and Compas set by Kristalia is suitable for a range of spaces, from residential dining areas to modern office environments. Whether you're designing a contemporary home, a trendy cafe, or a sophisticated office, this furniture set adds a touch of elegance and functionality.
Immerse yourself in the world of modern design with the Kristalia Poule and Compas set. Their realistic 3D models bring these exquisite furniture pieces to life, allowing you to showcase their beauty and versatility in your interior visualizations with utmost accuracy and realism.
File type: MAX, FBX, OBJ
Highlight text and press
Ctrl+Enter