Bedroom interior with a circle above the headboard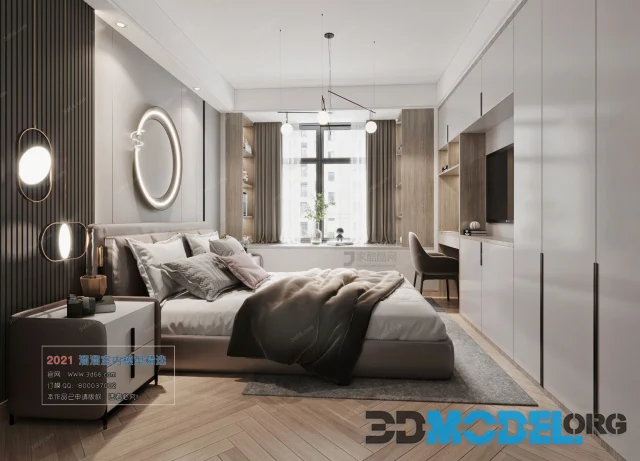 Modern bedroom in shades of cocoa and milk. Double bed with a low soft headboard is the basis of the composition of the interior. The axis of the bed is the axis of the wall behind the headboard with a round decorative panel with lighting. Part of the wall behind the bedside table is decorated with vertical wooden slats. Lights with long overhangs look wonderful against their background. They are made in the form of golden oval frames with a round "pupil" of plafond. In the far part of the room around the wall with the window are equipped with open shelves. A wide white window sill with closed storage systems integrated below serves as a unifying element of the shelves. The wall opposite the bed continues the theme of open and closed sections with a small make-up table, a TV panel on the wall and cupboards behind the bright smooth fronts. The central light fixture is presented as three thin horizontal bars with a white plafond ball on each. Several built-in round lights provide localized illumination in a variety of lighting scenarios. The shades of cocoa, running through the interior in the curtains, some of the furniture, the quilt, the carpet, the trim on the upholstered chair, the shade of wood on the floor and the shelves serve as a unifying color of the interior.
Full 3d-scene with textures and materials - render ready.
File type: 3ds Max (Corona)
Highlight text and press
Ctrl+Enter