Knights armament SR-25 (PBR)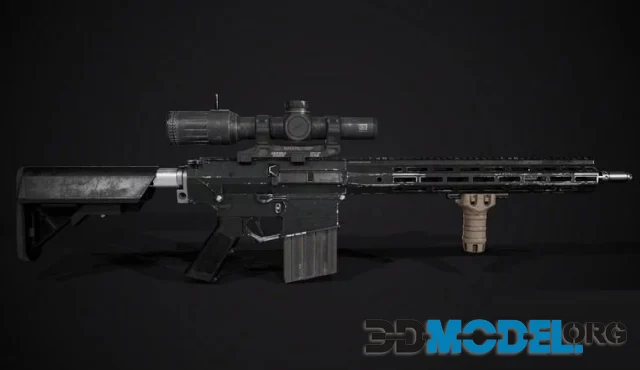 The Knights Armament SR-25 is a designated marksman rifle (DMR) developed by the American company Knight's Armament Company. It's a semi-automatic sniper rifle designed for precision shooting, offering accuracy and reliability.
Design and Features:
The SR-25 is based on the AR-10 rifle and uses the 7.62×51mm NATO (.308 Winchester) cartridge.
It features a free-floating, match-grade barrel that contributes to its accuracy and consistency.
The rifle is known for its modular design, allowing users to customize and adapt it to various mission requirements.
Equipped with a robust and adjustable stock, it provides stability and comfortable shooting for different users.
It often includes an advanced trigger system, contributing to its accuracy and allowing for precise shots.
Performance:
The SR-25 is lauded for its long-range accuracy, capable of engaging targets at extended distances effectively.
It's a popular choice among military and law enforcement units as a designated marksman's weapon due to its reliability and precision.
The rifle's build quality and accuracy make it suitable for various tactical and competitive shooting applications.
Variants:
Over the years, there have been several iterations and variants of the SR-25, each with slight modifications or enhancements in terms of features, materials, or configurations.
Variants may differ in barrel lengths, accessories, and stock options to cater to different user preferences or specific operational requirements.
In summary, the Knights Armament SR-25 is recognized for its accuracy, reliability, and versatility, serving as a formidable semi-automatic sniper rifle utilized in various tactical roles.
GameReady 3d-model for any projects.
File type: MAX, FBX, OBJ
Highlight text and press
Ctrl+Enter