SU-152 Heavy Self-propelled Artillery (PBR)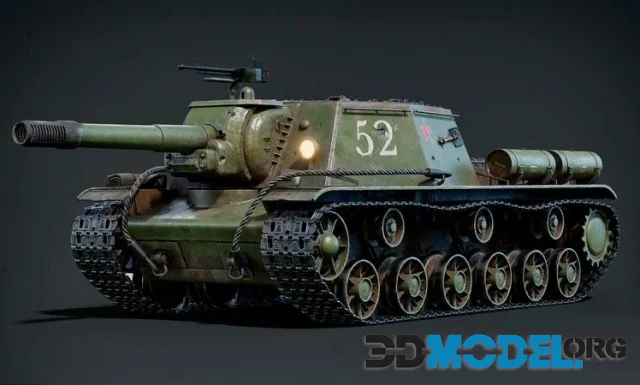 The SU-152 Heavy Self-propelled Artillery was one of the Soviet Union's premier anti-tank weapons, capable of acting both as a tank destroyer and fire support artillery piece. It had standard HE projectiles that could penetrate enemy armour while also firing armour-piercing AP rounds for added damage.
The Soviet Army employed the 152mm ML-20S gun, capable of firing a 107-pound HEAT projectile, throughout World War II and until 1958. This gun saw service with them until 1958.
In 1942, the Red Army recognized the need for mobile heavy guns to combat pillboxes and other fortifications during Stalingrad counteroffensive. After 25 days of trials, the first prototype was constructed and approved for production in February 1943.
In May 1943, newly formed Heavy Self-propelled Artillery Regiments received these vehicles. Each regiment consisted of three batteries of seven vehicles with a KV-1S tank serving as its command vehicle.
They were typically deployed in small one- or two-vehicle detachments alongside infantry squads for protection. They could be employed against Panzerfaust gunners hiding behind buildings during urban operations, as well as during assaults on enemy fortifications.
Its protection was adequate for a tank destroyer, though not quite up to par with its close relatives the SU-122 and KV-2. It was mostly armored with 60mm of rolled homogenous armour (RHA), with some sections of its hull covered by 65 mm cast homogeneous armour.
Quality 3d-model with textures in a archive.
File type: MAX, FBX, OBJ
Highlight text and press
Ctrl+Enter