Mig-17 (PBR)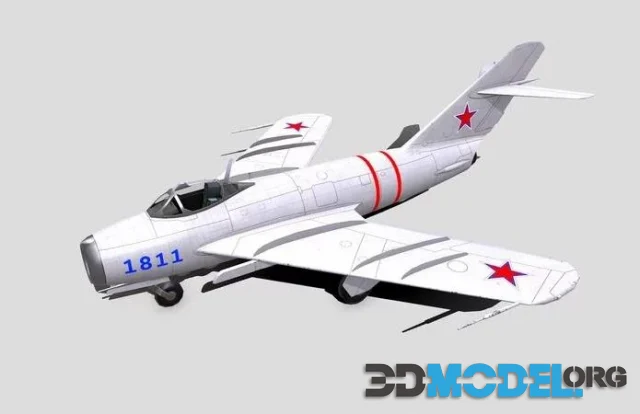 The MiG-17 was developed in the Soviet Union as a modernized version of their MiG-15 fighter aircraft. It featured more sharply swept wings, an afterburner, improved speed and handling characteristics - plus it was about three feet longer than its predecessor! As a result, this Russian fighter became the first to reach near supersonic speeds while flying at level flight.
MiG-17 began as a basic day fighter. It was equipped with one 37 mm (40 rounds) Nudelman N-37 cannon and two 23 mm (80 rounds) Nudelman-Rikhter NR-23 cannons. Capable of carrying up to 500 kg (1,100 lb) of external stores on two pylons - including 100 kg (220 lb), 250 kg (550 lb) bombs and unguided rockets - the MiG-17 had its beginnings as an all-around day fighter-bomber.
In early 1953, a variant designated "F" was introduced that equipped the VK-1F engine with an afterburner to provide increased thrust when required. This allowed the MiG-17 to climb faster and be more maneuverable at higher altitudes.
Later versions of the MiG-17 featured more powerful afterburners and increased power output. As these were the first Soviet fighters to employ an afterburner, pilots quickly took notice of their improved performance and ability to reach supersonic speeds in a short amount of time.
The MiG-17 saw action in many countries around the world, with over 9,000 built before production ceased. It was employed as a main fighter by various air forces around the world and served as North Vietnam's primary fighter during the Vietnam War; USAF fighters downed 61 MiG-17s during this conflict.
GameReady 3d-model for any projects.
File type: MAX, FBX, OBJ
Highlight text and press
Ctrl+Enter