F-16 Fighting Falcon (PBR)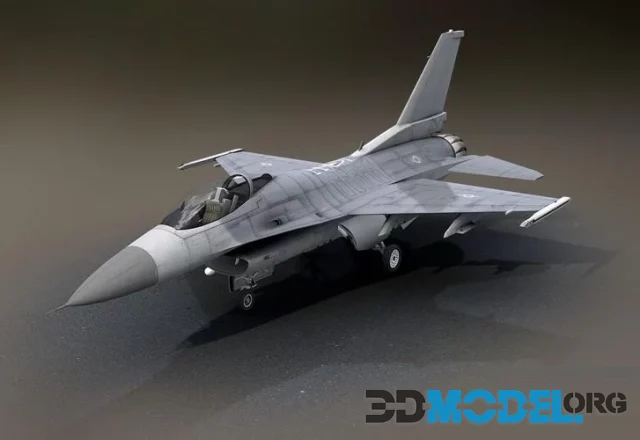 The F-16 Fighting Falcon is a highly versatile and widely-used fighter aircraft developed by General Dynamics (now Lockheed Martin). It is a fourth-generation, single-engine, supersonic jet that has been in service with multiple air forces around the world since its introduction in the 1970s.
The F-16 features a sleek and aerodynamic design optimized for maneuverability and performance. Its compact size and lightweight construction allow for high agility in both air-to-air and air-to-ground missions.
The aircraft is equipped with a single Pratt & Whitney F100 or General Electric F110 turbofan engine, providing it with exceptional speed and climb rate. The engine's afterburner capability allows for increased thrust during combat maneuvers.
The F-16 is armed with a variety of weapons, including air-to-air missiles, air-to-surface missiles, precision-guided bombs, and a 20mm Gatling gun. It can carry a significant payload of ordnance to engage various targets effectively.
The F-16 is equipped with advanced avionics and electronic systems, including a multi-function display, a heads-up display (HUD), and a fly-by-wire flight control system. These systems enhance situational awareness, navigation, and weapon targeting capabilities.
The F-16 is known for its role flexibility, capable of performing air superiority missions, ground attack, close air support, and reconnaissance missions. It can adapt to different combat scenarios and is compatible with a wide range of mission-specific equipment.
The F-16 Fighting Falcon is used by numerous air forces worldwide, including the United States Air Force and many NATO countries. Its reputation for performance, reliability, and maintainability has made it a popular choice for air forces globally.
Over the years, the F-16 has undergone several upgrades to enhance its capabilities. These upgrades include improved avionics, radar systems, weapon systems, and structural modifications, ensuring that the aircraft remains relevant in modern combat environments.
The F-16 Fighting Falcon is a highly capable and versatile fighter aircraft that has earned a reputation for its performance, maneuverability, and adaptability. It continues to play a crucial role in the defense forces of many nations and remains an iconic symbol of military aviation.
GameReady 3d-model for any projects. PBR-textures included.
File type: MAX, FBX, OBJ
Highlight text and press
Ctrl+Enter