B-4 Howitzer (PBR)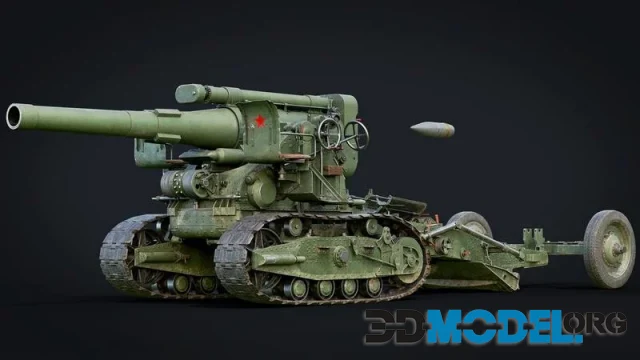 The B-4 Howitzer, known as "Stalin's Sledgehammer", is a legendary Soviet heavy artillery piece that was capable of decimating German bunkers along the Eastern Front during World War II. These guns formed part of Stalin's strategic reserve and were employed to attack fortifications from close range in order to decimate enemy defenses.
The Howitzer was designed in 1931 and produced at three factories: Bolshevik (Leningrad), Barrikady (Stalingrad) and Novokramatorsk. It was one of the few Soviet heavy artillery pieces to use a tractor tracked carriage, due to government policy during the 20s and 30s to increase tractor factory numbers.
Development of this weapon began in the late 1920s at Artkom design bureau, which was charged with creating a universal 122mm corps gun and 203 mm howitzer for the newly Soviet Army. By 1926, this design bureau had produced a 203mm howitzer that had long range and could be field serviced.
After the design was finalized, production of the howitzer began in 1933 at Bolshevik and Barrikady factories. Unfortunately, due to serious production difficulties at this latter plant, production was not resumed until 1938.
Technical drawings for the howitzer differed between factories, with weapons produced at each not fully compatible with each other. This led to two models being in service simultaneously.
The B-4 howitzer was an impressive piece of heavy artillery that could fire multiple shells at a target in one round, breaking through fortifications and bunkers like no other weapon could at that time.
GameReady 3d-model for any projects.
File type: MAX, FBX, OBJ
Highlight text and press
Ctrl+Enter