NASA Mars Exploration Rover Curiosity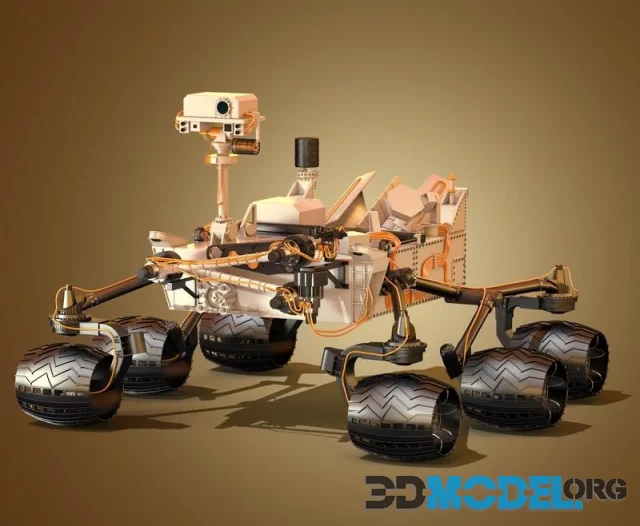 NASA Mars Exploration Rover Curiosity is an autonomous robotic rover developed and operated by the U.S. space agency NASA. Curiosity was launched on November 26, 2011 and successfully landed on the surface of Mars on August 6, 2012. It is one of the most complex and technologically advanced space exploration missions.
Curiosity is designed to study the climate and geology of Mars and to search for traces of life. It is equipped with a variety of scientific instruments, including cameras, spectrometers, drilling equipment, and other instruments that allow for detailed exploration of the surface of Mars.
Curiosity measures approximately 3 meters long, 2.8 meters wide and 2.2 meters high. It is equipped with six wheels to navigate over rough Martian terrain and has special tools to collect soil and rock samples.
One of Curiosity's most famous features is its atomic power source, a radioisotope thermoelectric generator that converts the thermal energy released by the radioactive isotope plutonium-238 into electricity. This provides long-term and reliable power for the rover during its mission.
NASA Mars Exploration Rover Curiosity's three-dimensional model is based on real data and documentation about the robot. It realistically recreates its appearance, construction and details, allowing you to explore and represent the rover in a virtual environment.
NASA Mars Exploration Rover Curiosity is an impressive research robot that continues to explore the surface of Mars and expand our knowledge of the red planet. Its mission contributes to our understanding of the origins of Mars and its potential for life, and serves as an important step in space exploration and expanding the boundaries of human knowledge.
File type: MAX, FBX, OBJ
Highlight text and press
Ctrl+Enter