Skoda Kodiaq RS 2019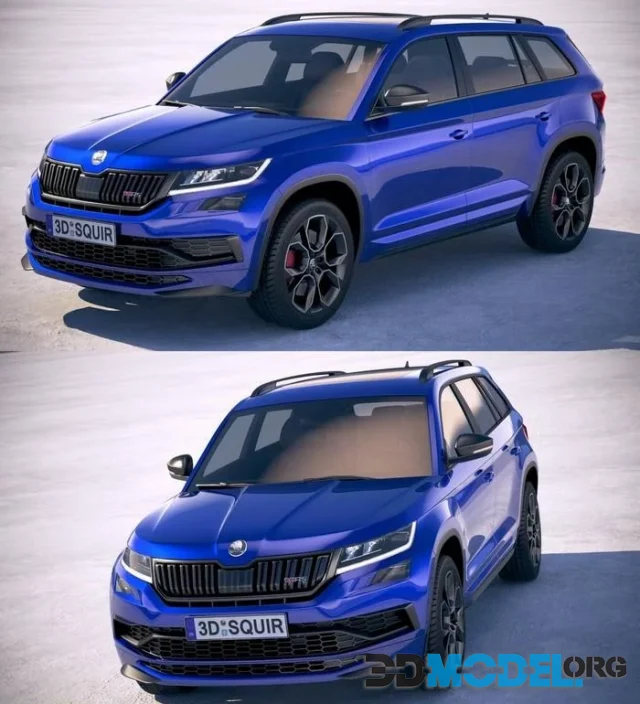 The Skoda Kodiaq RS 2019 is a performance-oriented SUV produced by the Czech automaker Skoda. RS stands for "Rally Sport," and it's a designation that Skoda uses to indicate its sportier models.
1. Performance: The Kodiaq RS is known for its sporty performance. It is typically equipped with a powerful engine that provides brisk acceleration and responsive handling. The 2019 model is often powered by a 2.0-liter, 4-cylinder turbocharged diesel engine, which combines strong torque with relatively good fuel efficiency.
2. Engine Specs: The engine in the Kodiaq RS 2019 typically generates around 176 kW (240 PS) of power and can produce an impressive amount of torque, making it suitable for both city driving and highway cruising.
3. Exterior Design: The Kodiaq RS features distinctive styling elements that set it apart from the standard Kodiaq model. These elements may include a sportier front grille, unique RS badging, larger alloy wheels, and sporty body accents. The design is aimed at conveying a sense of sportiness and performance.
4. Interior: Inside the Kodiaq RS, you can expect a well-appointed interior with sporty touches. Features may include sport seats with RS branding, a flat-bottomed steering wheel, aluminum pedals, and quality materials used throughout the cabin. It offers ample space for passengers and cargo, a hallmark of Skoda's practical design.
5. Technology: The Kodiaq RS is equipped with the latest technology and infotainment systems. This typically includes a touchscreen display with smartphone integration (e.g., Apple CarPlay and Android Auto), navigation, and various driver-assistance features like adaptive cruise control, lane-keeping assist, and more.
6. AWD System: Many Kodiaq RS models come with all-wheel drive (AWD) to improve traction and handling, especially in adverse road conditions. This can enhance both performance and safety.
7. Sport-Tuned Suspension: To complement its performance capabilities, the Kodiaq RS may have a sport-tuned suspension system. This setup enhances the SUV's handling and cornering abilities.
8. Driving Modes: The Kodiaq RS often offers multiple driving modes, allowing drivers to tailor the vehicle's performance to their preferences. This can include sport, comfort, and eco modes.
9. Practicality: Despite its sporty character, the Kodiaq RS remains a practical SUV. It typically offers a spacious interior with flexible seating configurations and a large cargo area, making it suitable for families and those with active lifestyles.
10. Safety: Skoda places a strong emphasis on safety, and the Kodiaq RS comes equipped with a range of safety features, including multiple airbags, stability control, advanced braking systems, and more.
The Skoda Kodiaq RS 2019 is a versatile SUV that combines sporty performance with practicality and comfort. It appeals to those who want an SUV that offers spirited driving dynamics without sacrificing everyday usability.
High quality 3D model for beautiful and realistic renderings.
File type: MAX, FBX, OBJ
Highlight text and press
Ctrl+Enter