Environment Art Mastery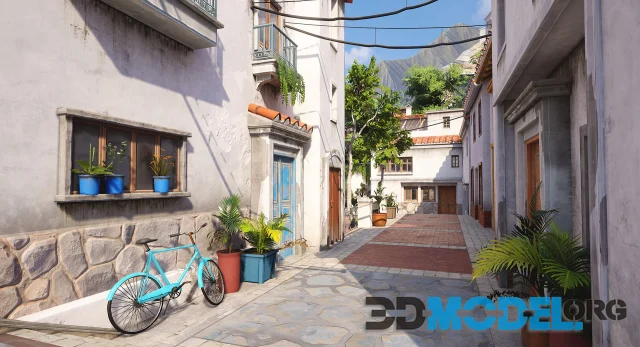 There's no limit to what our imagination can conceive, but inspiring our creative thinking and approach is where it all begins. When projects end up feeling like a chore, you're more likely to give up... I know, because I've been there before. While creating the Spanish Town, there were moments when I felt utterly defeated. You can read more about my experience here to understand how projects like this don't just test our skills, but our character too.
This is all part of the process. My 3D art environment design tutorial teaches you strategies to overcome the most common causes of project abandonment. Usually, a lack of vision, poor foundation in knowledge, and complexity are among the most common reasons.
If you want to invest in your future, then I'm ready to take the next step with you. With the right resources and attitude, you can achieve anything!
📚 Learn how to:
Unlock your innate creativity and ideation ability to come up with original ideas that resonate with you
Build a solid level foundation that is easy to finalize with beautiful art assets
Be able to tackle the entire environment art process: From generating ideas to putting the last finishing touches and optimization
Develop a personal, adaptable workflow to create all kinds of 3D environments
Use programs like Adobe Substance 3D, Photoshop, ZBrush, and xNormal to paint beautiful stylized textures
Optimize your workflows and work more efficiently and creatively than ever
...and much more!
Whom is this course for?
Design Immersive Gaming Experiences that Get You Noticed, with the Environment Art Mastery Course!
The Environment Art Mastery course framework will give your 3D design skills the edge you need – regardless of what stage you're at in your journey. Led by me, veteran 3D environment artist Thiago Klafke, I'll show you how to bring your ideas to life. With my easy-to-implement techniques for creating beautiful 3D environments, you can develop the most memorable 3D environments imaginable!
If you want an easier way to create 3D environments and bridge the gaps in your knowledge, then this 3D Art Environment Design Tutorial is for you. The course breaks down each stage of 3D environment development, focusing on one aspect at a time: Idea → Design → Art blockout → Asset Creation → Finalization
If you're just starting out as a 3D environment artist, you'll cultivate good practices early and save yourself YEARS of frustration and mistakes.
If you're a seasoned pro, this course will help you sharpen your 3d level creation techniques to much higher levels!
https://thiagoklafke.gumroad.com/l/environmentartmastery?layout=discover&recommended_by=discover
Highlight text and press
Ctrl+Enter