Primrose Office Lady - Game Ready v4.2x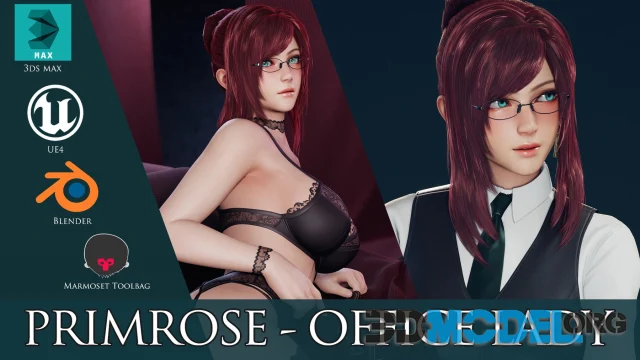 Low poly, game ready, rigged, PBR textures. Include nude body mesh. UE4 supported, ready to import into Unity.
Full Nude body with lingerie set and modular clothing parts (Shirt/Vest/Skirt/Heels/Glasses). Have morphs/blendshapes/keyshapes to fit body mesh with each layer of clothing.
Total tris counts: 183792
Unit: centimeters. Model Height: 173cm (with heels)
FBX folders contain full meshes and modular parts.
UE4 projects with modular character blueprint.
Packaged .blend file. Fully rigged with AutoRigPro. Blender version 3.0. Changing clothes part with MustardUI!
Skinning in 3DS MAX, full body rig and basic facial rig.
Facial expression morphs. Based on Apple AR Facial Blendshapes.
PBR textures (Metallic-Roughness) 2048X2048 and 4096x4096. DirectX Normal Maps. .TGA format.
Textures can be found in this folder: RyanReos_Primrose_OfficeLady\Assets\Textures
Include Marmoset files with material and studio lighting setup.
Bonus costume: Gris Swimsuit and Milk Apron!
Screenshots folder for more preview images (Warning: Nudity Content)
Version: 4.2x
Home Page: https://www.artstation.com/marketplace/p/P3bWV/primrose-office-lady-game-ready
Highlight text and press
Ctrl+Enter