Using Photogrammetry to Create 3D-Models For Game Development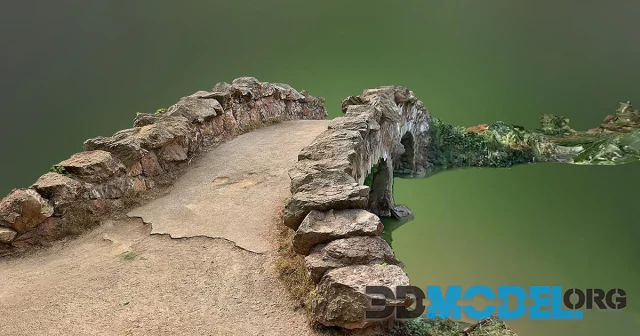 Photogrammetry is an amazing technology that can be used to create 3D-models for
game development
. However, you must be careful when using this technique because it can cause serious errors in the final product. Here are some tips on how to ensure you create the best possible 3D-models and make your gaming experience as accurate as possible.
If you are a creator of architectural and game projects, don't forget to visit our huge catalog of 3d models, where you can download Hi-Poly and Low-Poly meshes from different categories:
architecture
,
decor
,
furniture
,
light fixtures
,
people
,
vehicles
,
plants
and
more
. You can also find thousands of cool models for
3d printing
. Basically all files are in 3ds Max, fbx, obj, stl formats and usually come with textures and materials.
Autodesk ReCap
Photogrammetry is a powerful reconstruction process that turns multiple images into digital 3D models. Autodesk ReCap offers a range of tools for designers to work with reality capture data. Its point cloud software can be imported into all of Autodesk's products, and provides clean up of existing building scans.
Using photogrammetry, Autodesk ReCap produces accurate 3D models of real-world objects. This means engineers can validate design decisions and modify their processes in the real world. Using point cloud files, ReCap users can measure and edit the data to improve accuracy.
With its scalability, ReCap makes it possible to process large data sets. This is useful for applications like virtual reality.
With ReCap, a user can create and modify 3D models from photographs, aerial images, or laser scans. They can then export the data into different formats. These include BIM models, OBJ files, and
STL files
.
The ReCap program is available in two versions: ReCap and ReCap Pro. While ReCap is free, the pro version costs a monthly subscription or a membership plan. Both offer access to all of the features of the program.
One feature of ReCap Pro that makes it particularly useful is the ability to combine aerial photos with ground data. This allows users to create high-resolution meshes of any size.
Another useful feature of ReCap Pro is its ability to import and measure points from other products. Depending on the product, this may be a great way to clean up data from an existing building scan.
In addition to working with point cloud data, ReCap allows users to filter out specific areas of a model. Users can use simple selection tools and color-based selections to select only the data they need. Advanced settings allow users to specify texture generation and scale models.
Ultimately, the best solution for you depends on your needs. Some people may not need reality capture tools, while others may need them to create accurate models. Whatever the case, it's important to learn as much as you can about these technologies before you start using them.
MicMac
The MicMac (pronounced "mock-Mac") photogrammetric software suite is open-source. It offers high-precision, high-resolution photogrammetry and structure-from-motion algorithms. This free software is ideal for a wide variety of applications. For example, MicMac can be used to produce orthorectified images that correct for optical distortion, topographic relief, and other factors.
Various national mapping authorities, as well as commercial mapping companies, use MicMac to create 3D models of complex structures. Other uses include environmental protection and cultural heritage imaging. Using a variety of different cameras and lens sizes, MicMac can capture objects from small to very large scales.
It is possible to use Matlab to process the displacement maps that are produced by MicMac. These can be calculated in-plane and in-situ. In addition, Matlab can also be used to determine differences between DEMs.
Photogrammetry is a powerful reconstruction method. The idea is to take a series of photographs, or images, from multiple angles around a subject, and then analyzing them to extract geometric information. After the experimental run, a digital 3D model is created. However, in order to create the most accurate results, the user needs a wide range of pictures, taken from various angles.
In order to create an accurate and detailed three-dimensional model, you should shoot 30-40 shots from several different angles. To improve the accuracy of your 3D model, you can use a support device to stabilize your subject. When the subject is stabilized, the picture is flatter and less distorted, and will be more realistic.
Although the MicMac software suite is primarily meant for professional users, it is also very suitable for academic purposes. A few of the key features include an easy camera calibration procedure, high precision, and big data management. Moreover, there are different types of point clouds that can be generated, including a high-density point cloud, a polygon (PLY) format, and a multiple view geometry mode.
A variety of free and commercial software packages are available for using UAV-based data. Some interesting solutions are Autodesk's ReCap, Agisoft's PhotoScan(r) Pro, and ContextCapture, which is also known as Acute3D.
Ultimately, the quality of a photogrammetric calculation depends on the laboratory workflow and the type of data acquired.
Meshroom
Meshroom is a free 3D software that can convert a series of photographs into a digital model. It is based on the AliceVision computer vision framework. It utilizes a node-based workflow and is capable of producing a 3D model in OBJ format.
Unlike other programs, Meshroom offers a variety of features that help improve the quality of your 3D model. This includes an automatic cleanup function and the option to output displacement maps directly from the mesh. Another useful feature is the ability to unwrap
textures
in Photoshop. By doing this, you are able to view the
textures
as if they were in their original form.
Meshroom has a lot of great features, but it may not be the best choice for everyone. For example, its interface is not as user-friendly as other photogrammetry solutions. You should make sure to follow the instructions carefully before using this software.
Another important factor is that Meshroom uses nodes to control the reconstruction process. Each node controls a specific step. The result is a smoother process and better quality.
Another useful feature is the option to run multiple SfM modules in parallel. This means you can get more accuracy from your scans. When you have finished running a model, Meshroom will save it in a folder. To do this, double-click the Texturing node.
The Graph Editor provides an overview of the various processes that are part of the pipeline. The Node pane provides details on each node, while the Images pane allows you to view your photos.
In addition, Meshroom allows you to monitor your folder for new images. Once you have completed the entire process, you can load the final 3D model.
Meshroom is a good free option for beginners, but advanced artists should use a different software. If you are looking to generate a high-quality 3D model for game development, you might want to invest in a more robust solution.
One of the best ways to increase the quality of your photogrammetry is to increase the number of pictures. Increasing the triangle count in your 3D mesh can speed up the process. A more realistic image will also look better on your screen.
If you use the popular Unity engine to develop your game projects, you can download thousands of
3D-assets
for free to fill in game levels and create unique gameplay.
Object Capture
If you're looking for an inexpensive way to build 3D models for game development, you should consider using photogrammetry. It's a fast, non-contact workflow that produces accurate measurements and a realistic geometric representation of an object.
A typical photogrammetry process involves taking a series of photos of an object from different angles. Then, the software processes these photographs to create a detailed 3D model. This process is ideal for surveying large areas, or for creating detailed products.
Photogrammetry is ideal for reverse engineering. For example, it can be used to recreate thin shapes, such as the shape of a hand. You can also use it to create a virtual design from physical parts.
Photogrammetry is also a valuable tool for architectural modeling. It produces accurate measurements of a structure, and can help quantify the size of a building. In addition, it can be used to help police investigations. Using the technique, it's possible to calculate wildlife in a specific area.
Another advantage of photogrammetry is that it doesn't require any special equipment. However, to produce the best results, it's recommended that you have good quality photographs. Ideally, these photographs should be taken in a sunny or overcast location. Also, overlapping photos are required to achieve the most accurate result.
Professional photogrammetry software can also classify the objects that are detected. These programs can filter out objects that are moving or obstructing the view of the model. They can also cancel out effects of ambient occlusion.
There are a number of free options for beginners. One of the best is Meshroom. This open-source photogrammetry program is easy to use, and provides good quality meshes.
Another option is Regard3D. It has a Windows-style user interface. It's also free, though it can crash if you have too many files.
When it comes to 3D modeling, the best software for beginners is Meshroom. This node-based program allows for easy iteration cycles. You can stop the feature generation process if the important areas are missing.
Finally, consider Autodesk ReCap. This application lets you access aerial photogrammetry. Combined with a 3D printer, you can create accurate models for your game.
Don't forget to visit our
addons catalog
, where you can download a lot of auxiliary tools and third-party plug-ins for popular 3D programs such as 3ds Max, Cinema 4D, Maya, ZBrush and others.
More articles:
Highlight text and press
Ctrl+Enter