Beekman Dining Chair and Osaka Table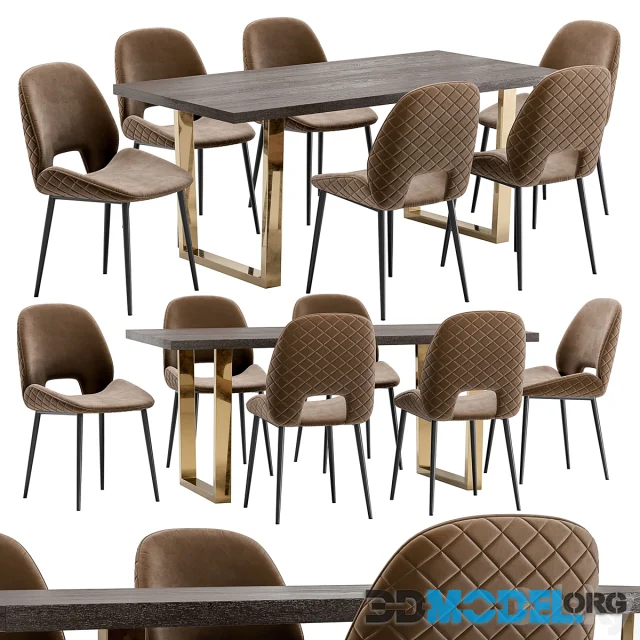 The Beekman Dining Chair is a contemporary and stylish seating option designed for dining spaces. Crafted with a focus on modern aesthetics and comfort, the chair typically features clean lines and a streamlined silhouette. The construction likely involves high-quality materials to ensure durability and a sophisticated appearance. The upholstery, often customizable, complements the overall design and adds a touch of luxury. Whether used in a formal dining room or a more casual setting, the Beekman Dining Chair is designed to enhance the visual appeal of the dining area.
The Osaka Table is a complementary piece, designed to be paired with the Beekman Dining Chair or other contemporary seating options. As a focal point of the dining room, the Osaka Table is expected to showcase a modern design with attention to detail. The table's construction may involve materials like wood, metal, or a combination of both. Its shape and size can vary, providing options for different dining room layouts. The Osaka Table is likely crafted to be both functional and visually striking, contributing to a cohesive and sophisticated dining space.
Together, the Beekman Dining Chair and Osaka Table create a harmonious dining set. The combination of modern design elements, quality construction, and customizable features allows these pieces to fit seamlessly into a range of interior styles. Whether in a contemporary home or a more eclectic setting, this dining ensemble is intended to offer both style and comfort for those gathered around it. For specific details, materials, and customization options, it's recommended to refer to the official documentation from the manufacturer or consult with authorized dealers.
High quality 3d model for decorating various renderings.
File type: MAX, FBX, OBJ
Highlight text and press
Ctrl+Enter