RPD Light Machine Gun (PBR)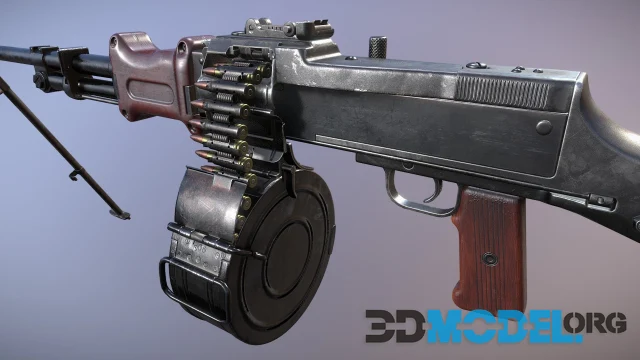 Vasily Alexseyevich Degtyarev's RPD Light Machine Gun was the product of his efforts to design an easily manufactured gas-operated light machine gun. As the first weapon to use 7.62x39mm intermediate cartridge, this groundbreaking weapon forever altered the course of modern combat weapons.
The rifle's primary features included low recoil, controllable rate of fire and a fixed barrel that kept it accurate at ranges beyond 250 meters. These characteristics made it an ideal weapon for the North Vietnamese Army.
In Vietnam, the RPD served as the standard light machine gun of choice for the NVA. Unfortunately, it had three drawbacks: it often jammed when fired repeatedly, it wore down gunner's hands without reloading and it overheated when used continuously for extended periods without reloading.
Fire discipline was employed to combat these issues and make the RPD a reliable backup weapon for assault squads. Despite its shortcomings, however, it saw widespread use throughout the Vietnam War.
Loading an RPD
To load an RPD, the operator locks the bolt, inserts a starter tab, threaded through the rear of the gun and gives it a sharp tug. After inserting this tab, lift up the cover to remove the feed tray from underneath and feed your belt accordingly.
The RPD can be loaded by any operator, though it may be slightly more challenging with sweaty or gloved hands. Loading on the first two gas regulator settings is easy and feeds well during field combat conditions - though slightly slower than a magazine-fed machine gun.
GameReady 3d-model for any projects.
File type: OBJ
Highlight text and press
Ctrl+Enter