World War One Artillery Cannon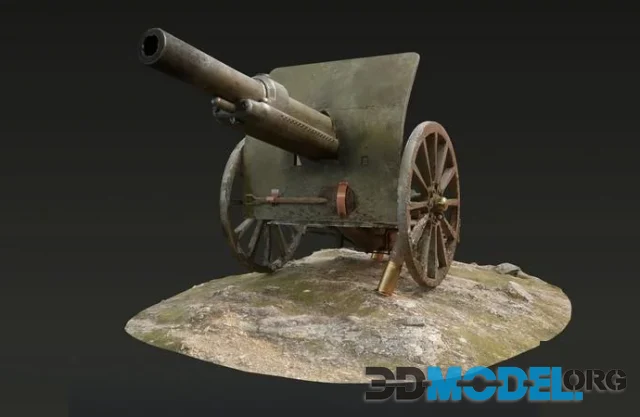 The World War One artillery cannon was a powerful and essential weapon used during the conflict. It played a significant role in the war, providing long-range firepower and devastating impact on the battlefield. These cannons were massive, heavy pieces of artillery that required a crew to operate.
The design of the artillery cannon evolved during the war, with various models and calibers being utilized by different nations. They were typically made of steel and featured a long barrel mounted on a sturdy carriage. The cannon's barrel was capable of elevation and traversing, allowing for precise aiming and targeting of enemy positions.
Artillery cannons fired a variety of ammunition, including high-explosive shells, shrapnel rounds, and gas shells. The shells were loaded into the cannon's breech, and the firing mechanism was operated by the crew. The cannons were known for their loud, thunderous booms and the distinct cloud of smoke that enveloped the firing position after each shot.
During World War One, artillery played a crucial role in trench warfare, bombardments, and siege operations. The cannons were used to destroy enemy fortifications, disrupt enemy lines, and provide cover fire for advancing troops. Their firepower and range made them a fearsome weapon on the battlefield, capable of inflicting significant damage on both personnel and structures.
Today, 3D models of World War One artillery cannons can be created to accurately depict the historical weapon. These models capture the intricate details of the cannon, including the barrel, carriage, wheels, and other components. They provide a realistic representation of the cannon's size, shape, and overall appearance, allowing for a better understanding and visualization of this important piece of military history.
File type: MAX, FBX, OBJ
Highlight text and press
Ctrl+Enter