Nagant 1895 (PBR)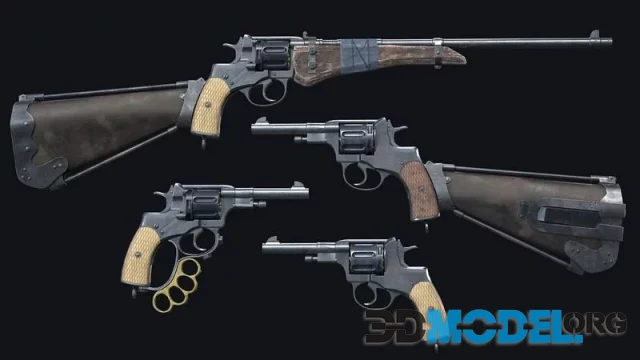 The Nagant M1895 is a historic revolver that was designed and produced by the Belgian arms manufacturer Nagant in the late 19th century. It is commonly referred to as the Nagant revolver or Nagant 1895.
Key features of the Nagant M1895 revolver:
Design: The Nagant M1895 has a unique and distinctive design. It is a double-action revolver that features a solid frame and a cylinder that rotates to align with the barrel. The cylinder is designed to move forward, creating a gas seal when the hammer is cocked.
Caliber and Ammunition: The Nagant M1895 is chambered in 7.62x38mmR caliber. It uses a special cartridge called the 7.62mm Nagant, which has a unique feature of having a recessed bullet that sits inside the cartridge case. When fired, the bullet is propelled forward into the barrel, creating a gas seal.
Capacity: The Nagant M1895 has a capacity of seven rounds. The cartridges are loaded into the cylinder, and the cylinder is rotated to bring each round into alignment with the barrel.
Single-Action and Double-Action: The Nagant M1895 can be fired in both single-action and double-action modes. In single-action mode, the hammer is manually cocked before pulling the trigger. In double-action mode, pulling the trigger both cocks and releases the hammer.
Gas Seal System: One of the notable features of the Nagant M1895 is its gas seal system. When the hammer is cocked, the cylinder moves forward, closing the gap between the cylinder and the barrel. This gas seal design was intended to improve muzzle velocity and reduce gas leakage.
Service Use: The Nagant M1895 revolver was widely used by various military and police forces during the late 19th and early 20th centuries. It was used by countries such as Belgium, Russia, Sweden, and others.
Historical Significance: The Nagant M1895 holds historical significance as a notable revolver of its time. It is particularly associated with the Russian Empire and Soviet Union, where it served as a standard-issue sidearm for the military and law enforcement agencies.
The Nagant M1895 revolver, with its unique gas seal system and distinctive design, has become a popular collector's item and is admired by firearm enthusiasts for its historical value and mechanical ingenuity.
Quality 3d-model with PBR-textures in the archive.
File type: MAX, FBX, OBJ
Highlight text and press
Ctrl+Enter