Oscilloscope c1-65A (PBR)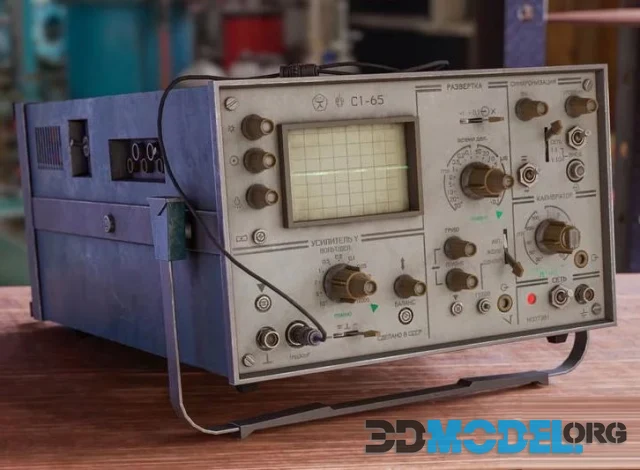 An electronic test instrument that graphically displays changing electrical voltages as a two-dimensional plot of one or more signals over time. Additionally, this device converts measured voltages into digital representation for display on the screen.
Some oscilloscopes, particularly high-end models, feature a graticule (or grid) that enables internal circuits to make finer measurements of trace data. A better graticule may have movable bright markers that can be adjusted for finer resolution; its scale, spacing and other parameters can also be changed; this improves measurement accuracy and may even eliminate "aliasing," in which an incorrect signal is displayed due to inability of the instrument to sample it at required frequency.
More expensive oscilloscopes feature vertical position control, which moves the displayed trace up and down to center it on the graticule. This feature comes in handy when there's a fixed offset of interest that only changes horizontally, or when there is limited DC component that can be compensated with direct coupling.
Some oscilloscopes feature an input coupling switch that connects a capacitor in series with the signal for low-frequency signals and DC. This ensures that the signal remains isolated from any other components that might cause an offset.
Some high-end analog oscilloscopes have a holdoff time that sets how many sweeps occur after a trigger event; this helps ensure an orderly display of repetitive events which could otherwise create confusing displays. It is usually set to minimum since longer times reduce sweeps per second and consequently trace brightness.
3d-model is executed in detail and quality. Textures PBR collected in the archive.
File type: MAX, FBX, OBJ
Highlight text and press
Ctrl+Enter