Epson LightScene EV-105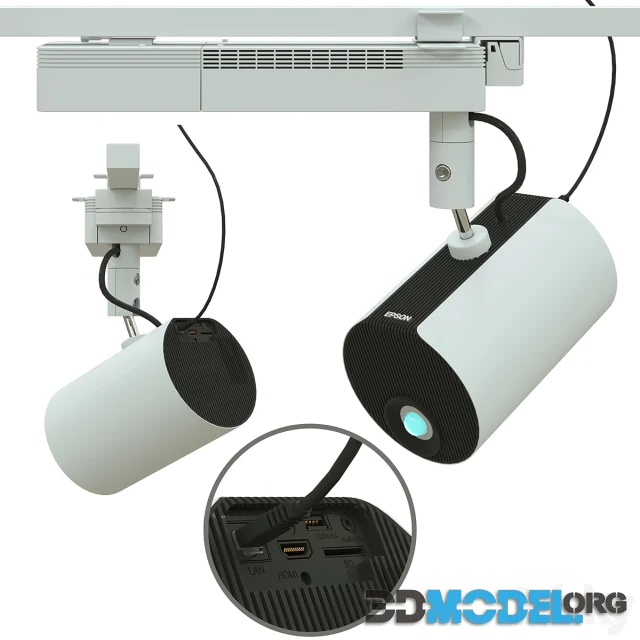 The Epson LightScene EV-105 is a cutting-edge projection lighting solution that combines art, technology, and functionality. Designed for commercial and artistic applications, it allows for immersive and dynamic visual experiences in various settings.
The LightScene EV-105 features a sleek and compact design, allowing for easy integration into different environments. It can be discreetly mounted on walls, ceilings, or track lighting systems, blending seamlessly with the surrounding architecture.
The EV-105 utilizes Epson's advanced 3LCD projection technology to deliver vibrant and crisp images. With a brightness of up to 2,000 lumens, it ensures clear visibility even in well-lit spaces.
The EV-105 offers a wide range of projection angles, allowing for creative and customized displays. It can project onto various surfaces, including walls, floors, and objects, enabling dynamic visuals that transform the space.
With its ability to reproduce a wide color gamut, the EV-105 ensures rich and accurate color rendering. This feature is particularly valuable for applications that require precise color representation, such as artistic displays and branding installations.
The EV-105 is equipped with advanced content management and control capabilities. It supports various media formats, allowing for seamless playback of images, videos, and animations. Additionally, it can be easily integrated into existing control systems for centralized management.
The EV-105 provides extensive options for content customization. Users can create and upload their own media, or choose from a wide range of pre-installed templates and effects. This flexibility enables the creation of engaging and interactive displays tailored to specific needs.
Epson is renowned for its reliable and durable products, and the EV-105 is no exception. It offers a long-lasting light source with a lifespan of up to 20,000 hours in normal mode, reducing maintenance and replacement costs.
The EV-105 is designed for hassle-free installation and setup. It supports various connectivity options, including HDMI, USB, and wireless connections, ensuring compatibility with different devices and systems. The included mounting brackets and adjustment features simplify the installation process.
In summary, the Epson LightScene EV-105 is a powerful projection lighting solution that brings creativity and visual impact to commercial and artistic spaces. With its versatile design, high-quality projection, flexible content management, and reliable performance, it offers endless possibilities for creating captivating and immersive visual experiences.
Hi-Poly 3d-model with customized materials and textures in the archive.
File type: MAX, FBX, OBJ
Highlight text and press
Ctrl+Enter