Nieuport 17 GameReady aircraft (PBR)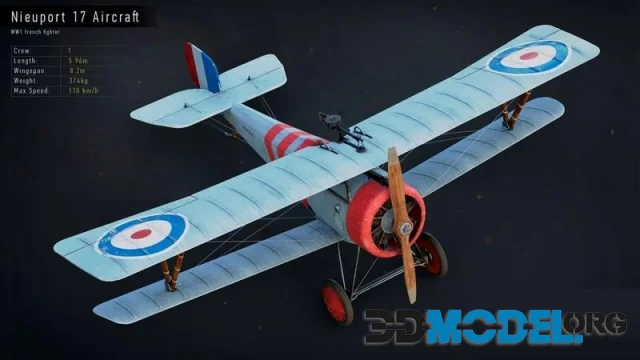 World War I saw many iconic fighter aircraft, but none quite compare to the Nieuport 17. Designed by Gustave Delage and deployed on the front line in March 1916, it quickly replaced the Nieuport 11 as France's premier single-seat fighter.
The Nieuport was an aerodynamically-shaped aircraft, featuring a single seat for the pilot and canopy separating the cockpit from rear fuselage. Wings featured conventional design with widely spaced spars and ribs which provided good load carrying angles at leading edge of upper wing; this also produced high levels of stagger. Ailerons were only fitted to top wings, increasing their chord towards wingtips for improved stall response when landing.
Armament: The primary weapon aboard British Nieuports was a Lewis gun, mounted either above center section or offset to starboard; British Nieuports also carried an electronically synchronized Vickers gun and some were equipped with eight Le Prieur rockets launched from tubes mounted on interplane V struts. Ground crew could adjust the aircraft's armament but usually only the Lewis gun was moved.
Flight Performance: The N17 was an agile aircraft, powered by its 110 horsepower Le Rhone 9J engine. This gave it an impressive rate of climb and impressive top speed; however, its "sesquiplane" (one-and-a-half) lower wings proved weak due to a single spar construction.
As a result, the N17's lower wings were often folded and broken off during high-speed dives. Despite this, it became the mount of many Allied aces; Canadian ace William Avery Bishop earned his Victoria Cross while flying an N17.
3d-model is executed in detail and quality. Textures collected in the archive.
File type: MAX, FBX, OBJ
Highlight text and press
Ctrl+Enter