Micoyan Mig-31 (PBR)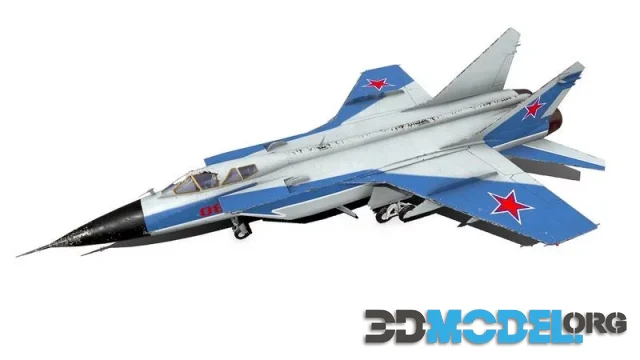 The Micoyan Mig-31, popularly known as the Foxhound, is a long-range supersonic interceptor aircraft developed by Mikoyan design bureau. It evolved from their earlier MiG-25 Foxbat model but featured more efficient low bypass ratio turbofan engines.
The MiG-31 is a two-seat all-weather fighter interceptor that entered service with the Soviet Air Force in September 1975. It has an optimum takeoff weight of 46,200 kg (115 tons), and can be operated by both a pilot and weapon system officer.
It is equipped with one Gryazev-Shipunov GSh-6 2323mm six-barrel rotary canon with 260 rounds of ammunition and four Vympel R-33E air-to-air missiles. The weapons systems officer controls radar and weapon deployment from a rear cockpit seat.
Up until 2000, the MiG-31 was the only interceptor equipped with phased array radar. Its onboard complex can track 24 airborne targets simultaneously and launch six R-33S missiles at once.
Modernization of the MiG-31 began in 2010, and Moscow intends to have 100 aircraft upgraded by 2020. The upgrade program includes new multimode radar, avionics, hands-on-throttle-and-stick (HOTAS) control system and multi-functional displays.
Aleksandr Osokin, head designer at Sokol Aircraft Plant where the Foxhound is repaired, believes that an upgrade program to his aircraft will significantly enhance its combat effectiveness. It is expected to remain in service until 2030 or beyond.
Realistic 3d-model for various projects.
File type: MAX, FBX, OBJ
Highlight text and press
Ctrl+Enter