Lockheed CL-1201 nuclear powered aircraft (PBR)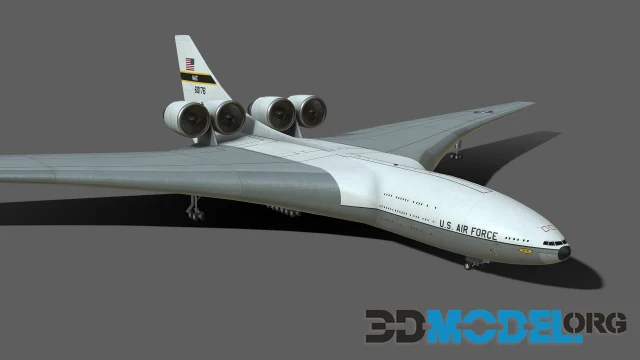 At the height of the Cold War, when Soviet aviation development was at its peak, the US Air Force asked Lockheed to create something that could take on Soviet forces head-on. The result was the Lockheed CL-1201 nuclear powered aircraft with a wingspan of 1120 feet and fuselage measuring 560 feet long.
The concept was for a spacecraft to fly from the United States to an enemy country and never land. Its four dual-propulsion turbofan engines would provide thrust until 16,000 feet, at which point a nuclear reactor would provide power through 1.83 gigawatts of electricity - enough for 41 days in flight!
This aircraft was intended to be a Vertical Take-Off and Landing (VTOL) aircraft like the Harrier jumpjet, but its wingspan was so vast no runway could accommodate it. To take off, clusters of 24 Boeing 747 turbofans running on JP-5 fuel would take it off, while 182 vertical lift jets would provide lift at the appropriate altitude for VTOL landings.
In addition to its immense size, there were other issues as well. For instance, its vulnerability made it vulnerable to missile attacks; point defence laser cannons were proposed as a defense mechanism against such threats. Unfortunately, JFK ultimately cancelled the project due to fears over nuclear material on board being too great a risk.
Realstic 3d-model with textures.
File type: OBJ
Highlight text and press
Ctrl+Enter