Eurocopter AS350 BA (PBR)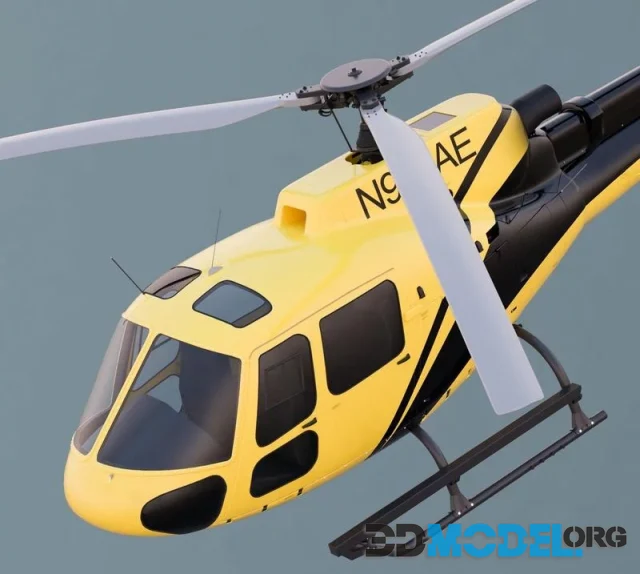 The Eurocopter AS350 BA, also known as the Ecureuil, is a single-engine light helicopter developed by Eurocopter, now known as Airbus Helicopters. It is part of the AS350 family of helicopters, which are widely used in various fields, including tourism, patrol, medical assistance and many others.
Key features of the Eurocopter AS350 BA include:
Design and construction: The helicopter has a modern and ergonomic design, providing optimal aerodynamics and controllability. It is equipped with a strong and lightweight design that provides good maneuverability and stability in flight.
Performance: Eurocopter AS350 BA is equipped with a powerful gas turbine engine, which provides high speed and good payload. It is capable of transporting passengers or cargo in various conditions and over various distances.
Cabin configuration: Helicopter can accommodate up to 6 passengers, including the pilot. The salon has comfortable and comfortable seating providing a pleasant journey for passengers.
Use Cases: The Eurocopter AS350 BA can be used for a wide range of applications including passenger transport, tourism, patrolling, medical assistance, aerial photography and many more. It is adapted to work in various climatic conditions and on various types of terrain.
Safety: The Eurocopter AS350 BA is equipped with advanced safety systems, including an emergency buoyancy fairing (on certain versions), flight control systems and more. This ensures the safety and reliability of flights.
The Eurocopter AS350 BA is a popular choice in the world of helicopter aviation due to its performance, reliability and versatility. It provides comfortable flights and can be used in various fields of activity.
Realistic GameReady 3d-model for any projects. Textures included.
File type: MAX, FBX, OBJ
Highlight text and press
Ctrl+Enter