Eurocopter AS350 MedFlight (PBR)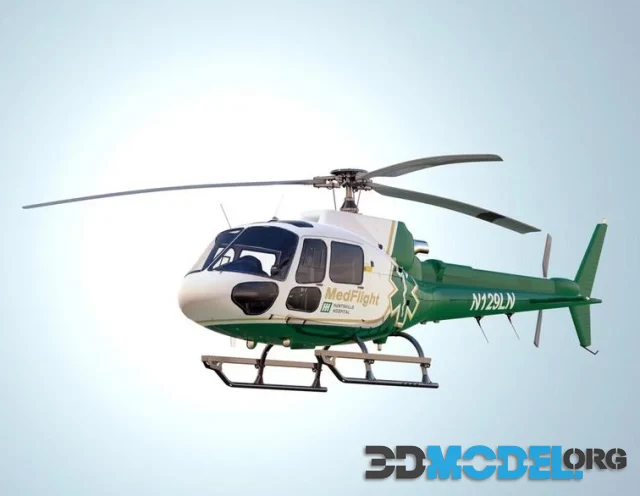 The Eurocopter AS350 MedFlight is a special modification of the Eurocopter AS350 helicopter designed for medical operations and emergency medical care. This helicopter provides high mobility and flexibility to quickly take the medical team and the patient to places that are not accessible by other means of transport.
Key features of the Eurocopter AS350 MedFlight include:
Medical equipment: The helicopter is equipped with specialized medical equipment, which includes portable vital signs monitors, intensive care medical equipment, and life support and resuscitation systems. This makes it possible to provide comprehensive medical care during transportation.
Medical Cabin: The helicopter cabin is specially designed for the comfort and safety of the patient and medical personnel. It is equipped with special seats and devices for fixing the patient, as well as places for storing medical equipment.
Improved accessibility: The Eurocopter AS350 MedFlight has a vertical takeoff and landing (VTOL) capability that allows landing and takeoff from restricted areas such as hospital helipads or small areas of land. This allows medical care to be delivered where it is most needed.
Fast response: Eurocopter AS350 MedFlight provides high speed and maneuverability, which allows you to quickly deliver medical care and transport patients to medical facilities. A quick response is especially important in emergency situations where every minute counts.
Safety: The Eurocopter AS350 MedFlight is equipped with advanced safety systems, including an emergency buoyancy fairing, automatic flight control systems and other technologies.
GameReady 3d-model for any projects.
File type: MAX, FBX, OBJ
Highlight text and press
Ctrl+Enter