T-90A Vladimir GameReady tank (PBR)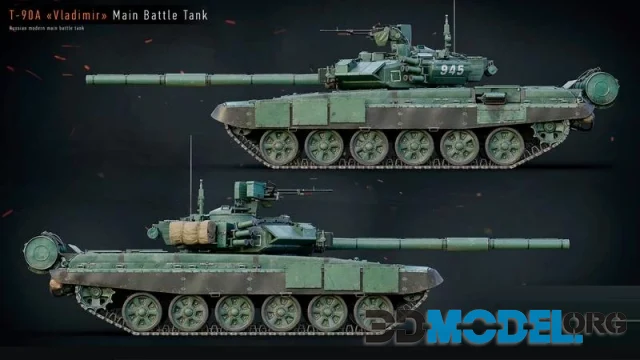 The T-90A Vladimir is a 48 ton main battle tank designed by Uralvagonzavod in Nizhnyi Tagil, Russia. It is equipped with an 125 mm 2A4M5 smoothbore cannon and 7.62 mm 6P7K machine gun for firepower.
Designed as a 'hunter-killer,' this tank can search and track targets before firing automatically. The tank commander uses panoramic sight with thermal vision to identify the target.
This version of the T-90AM features Relikt add-on explosive reactive armor as well as numerous upgrades to observation, aiming and weapon control systems, such as an updated remote weapon station. Furthermore, it boasts a 2A46M-4 gun which is 15-20% more accurate than its predecessor.
The Russian T-90A is an impressive vehicle, boasting a welded turret, V-92S2 engine and ESSA thermal viewer. Many countries have purchased them in various versions over time.
India recently purchased 330 T-90A tanks in 'knocked down' form from Uralvagonzavod Heavy Vehicle Factory in Avadi, Tamil Nadu. These Indian T-90A tanks do not feature Shtora-1 passive electronic countermeasure system but still feature Kontakt-5 ERA on the turret.
Other customers include Azerbaijan, Algeria, Turkmenistan and Uganda. These 'export' T-90As have been fitted with French 'heat-vision' devices as well as a different composite armour than their Russian counterparts.
Meng Models has released a kit of their popular and powerful main battle tank. The turret is particularly impressive, while this GameReady version comes with an upgraded track design, twin electro-optical/IR 'dazzler' lights, and composite armor on the turret's skin. This build is highly detailed and engaging - especially when you can customize it to look like something else!
Realistic 3d-model.
File type: MAX, FBX, OBJ
Highlight text and press
Ctrl+Enter