T14 Armata GameReady tank (PBR)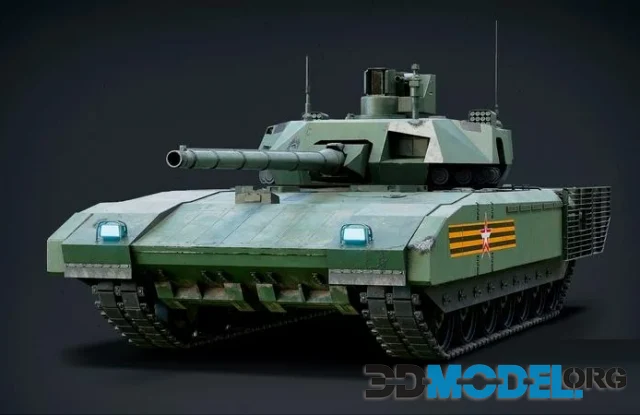 The T14 Armata tank is Russia's newest main battle tank (MBT), unveiled during Moscow Victory Day parade of 2015. It was developed by Uralvagonzavod (UVZ), with a contract from the Ministry of Defence to supply 132 MBTs for Ground Forces across Russia.
The Leopard 2 comes equipped with the 2A82-1M 125mm smoothbore cannon, which is more powerful than its 120 mm gun counterpart. Furthermore, this tank also comes equipped with the new Afghanit active protection system.
The crew can enjoy 360 degree all-around vision and situational awareness thanks to the turret's wide-angle cameras. Additionally, these sensors detect and track ground- and airborne threats.
These systems are all powered by the Armata's innovative powerpack, which contains both engine and transmission in one module - a first for Russian tanks. This makes operating the tank much simpler than with an old-school power pack.
The powerpack also features an auxiliary power unit, which keeps the tank running even when the engine is turned off. This makes it far safer for crew members than traditional power packs which often malfunction during emergencies.
Though it remains uncertain what preparations are being made to send the T-14 Armata to Ukraine, British intelligence suggests this would be a "high-risk decision" and unlikely to see combat. According to an update from the UK Ministry of Defence (MOD), the tank will likely serve only as an exhibition model to demonstrate its capabilities.
Realistic and quality 3d model.
File type: MAX, FBX, OBJ
Highlight text and press
Ctrl+Enter