Military Searchlight APM-90 (PBR)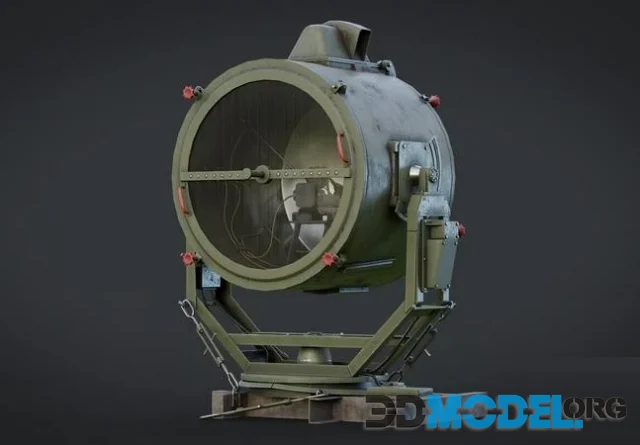 In 1953, the APM-90 airport navigation searchlight was developed to replace 60 cm diameter searchlights and 200 cm anti-aircraft intercept searchlights that proved difficult to operate. This model could be mounted on trucks or as permanent installations and provided reliable illumination at nighttime for aircraft operations.
In the Soviet Union, APM-90 was used on cars ZIS-150 and ZiL-164 as well as Praga V3S trucks. Additionally, Czechoslovakia adopted these same vehicles.
The APM-90 had three primary purposes: to illuminate the runway, guide aircraft optically to their designated area and mark a spot in the field for aircraft. It could also detect airfield locations when visibility was poor or hazy.
The APM-90 featured an arc lamp that could shine as either an arc or incandescent lamp and a parabolic reflector to project a beam of light. It could be operated either automatically or manually.
It had a peak output of 800 million candela, making it an incredibly powerful device that could illuminate targets in complete darkness.
Naval capital ships employed searchlights during the First World War to track small, close-in targets like torpedo boats. The searchlight was an integral part of nighttime naval combat tactics.
Searchlights were also employed by night fighters and anti-submarine warfare aircraft during WWII. A searchlight could illuminate in the dark, providing visual cues to rear gunners where their target was located.
Detalied 3d-model. Textures included.
File type: MAX, FBX, OBJ
Highlight text and press
Ctrl+Enter