Military Humvee (PBR)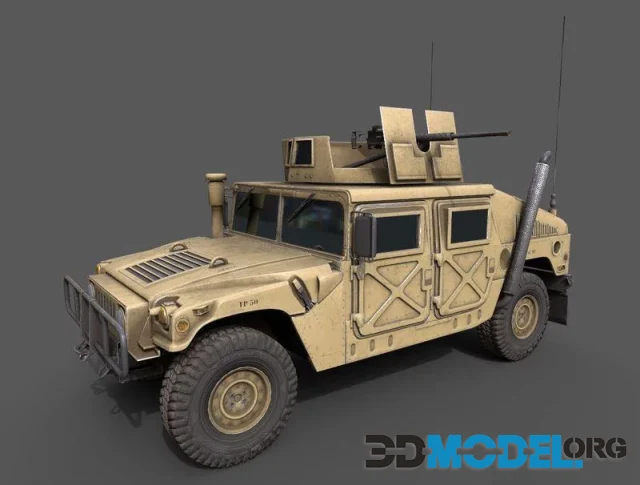 The Military High Mobility Multipurpose Wheeled Vehicle (HMMWV), commonly known as the Humvee, is a versatile and iconic military vehicle designed for a wide range of roles and environments. Developed by AM General, the Humvee has been a mainstay in the U.S. military and various allied forces since its introduction in the 1980s.
Design and Features:
The design of the Military Humvee prioritizes versatility, mobility, and durability. It typically features a boxy and utilitarian body, providing ample space for various configurations. The vehicle can be adapted for troop transport, ambulance services, weapon platforms, and more.
Mobility:
Humvees are renowned for their exceptional off-road capabilities. They are four-wheel-drive vehicles designed to navigate diverse terrains, including rough landscapes, deserts, and muddy conditions. The independent suspension system contributes to its ability to traverse challenging environments.
Armor and Protection:
While the original Humvees were not heavily armored, various versions have been developed with added protection to enhance survivability on the battlefield. Some configurations include armored plating, blast-resistant features, and additional safety measures to safeguard occupants.
Power and Performance:
The Humvee is equipped with a powerful engine to ensure high performance in a variety of conditions. The engine options have evolved over the years, with diesel and turbo-diesel engines commonly used to provide the necessary torque and power.
Variants:
The Humvee has numerous variants designed for specific purposes. These include troop carriers, command vehicles, ambulances, missile launchers, and more. The adaptability of the Humvee makes it a versatile platform for different military missions.
Deployment:
Humvees have been widely deployed in various military operations globally, including conflicts in the Middle East and other theaters of operation. Their versatility makes them suitable for a range of tasks, from transporting troops to serving as a base for mounted weapons.
Upgrades:
Over the years, the Humvee has undergone several upgrades to address evolving threats and operational requirements. These upgrades may include improvements to armor protection, enhanced communications systems, and the integration of advanced technologies.
Civilian Versions:
While initially designed for military use, civilian versions of the Humvee have been produced. These civilian models, often known as the Hummer, gained popularity for their rugged appearance and off-road capabilities.
In summary, the Military Humvee is an iconic and adaptable vehicle that has played a crucial role in military operations worldwide. Its design, mobility, and ability to be configured for various roles make it a symbol of military versatility and effectiveness.
GameReady 3d-model for any projects. PBR-textures included.
File type: MAX, FBX, OBJ
Highlight text and press
Ctrl+Enter