Panzerkampfwagen IV AusfH (PBR)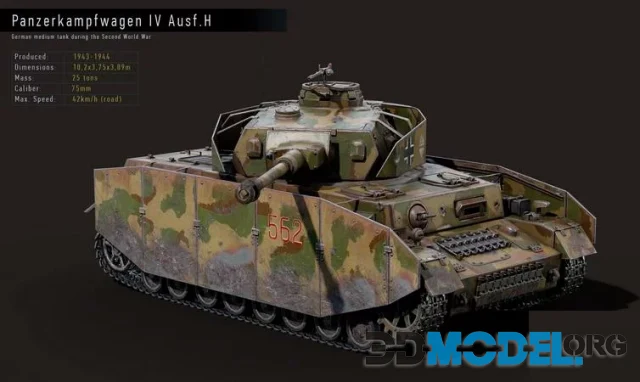 The Panzerkampfwagen IV AusfH was a widely-used German tank during World War II, deployed across all combat theatres of conflict. Originally designed as an escort tank to support infantrymen, it eventually became their primary battle tank after the Soviet T-34 and American M4 Shermans entered service.
The PzKpfw IV was developed in response to a requirement from the Heereswaffenamt (Army Weapons Branch) for a medium tank that could weigh up to 18 tons with an effective 75mm KwK 37 L/24 gun. It was first prototyped in 1937 and put into production by Friedrich Krupp AG the following year.
From May 1943 on, Panzer IV AusfH armored vehicles received 5mm thick skirts (Schurzen), covering its sides and turret to protect it against Soviet anti-tank rifles. These skirts were attached to rails attached to the sides of the hull with hinged panels on either side opposite the turret door for added protection.
For its part, the PzKpfw IV AusfH differed from most Panzer IV variants by not featuring a turret visor. Furthermore, rear positioned pistol ports and signal ports were eliminated, and Fliegerbeschussgerat rail was added to most cupolas in order to mount an MG 34 machine gun for anti-aircraft defense purposes.
On May 26th, 1941 the PzKpfw IV Ausf Hs were equipped with 50mm Pak 38 L/60 guns in preparation for Operation Barbarossa. However, as Soviet T-34 medium and KV-1 heavy tanks began entering service early 1942, this decision was reversed and instead used the 75mm KwK 40 L/43 anti-tank gun design; thus all PzKpfw IV Ausf Hs were armed with this newer version.
GameReady 3d-model for any projects.
File type: MAX, FBX, OBJ
Highlight text and press
Ctrl+Enter