Panzerkampfwagen V Ausf G (PBR)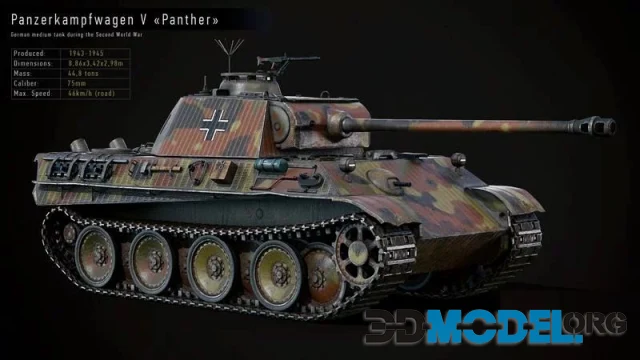 The Panzerkampfwagen V Ausf G was a light tank built by German factories during WWII. Based on the Panzerkampfwagen IV, it weighed 20 tons less and offered greater mobility compared to its larger counterpart.
The tank was equipped with a powerful 7.92 mm KwK 42 L/70 gun that could dispatch most Allied tanks in direct fire. Additionally, it featured a Turmzielfernrohr 12 binocular gun sight and coaxial 7.92 mm MG34 machine gun for added accuracy.
Early Panthers did not feature an armored ball mount for the MG34 machine gun, instead featuring a rectangular "letterbox" pistol port in the front glacis plate that radio operators could use to fire their machine guns through. A small armoured door covered this port.
On the left side of the hull, there was a hinged armored vision port that the driver could open when not engaged in combat. This feature was eliminated on later Ausf.G tanks to streamline production and simplify construction.
Another efficiency improvement was to install less complex hinged hatches above the heads of both drivers and radio operators, making the tanks much faster to construct.
In order to reduce weight, welted exhaust guards were removed on the chassis rear and replaced with cast armor covers. This also helped reduce the red glow emitted by exhaust pipes at night.
The turret, constructed of Rheinmetall-Borsig armor, was well sloped and spacious. It was protected by 80 mm (3.15 in) frontal equivalent armor at 78 degrees and 120 mm (4.72 in) on early Ausf.As.
GameReady 3d-model for any projects.
File type: MAX, FBX, OBJ
Highlight text and press
Ctrl+Enter