Damaged TOS 1A Buratino (PBR)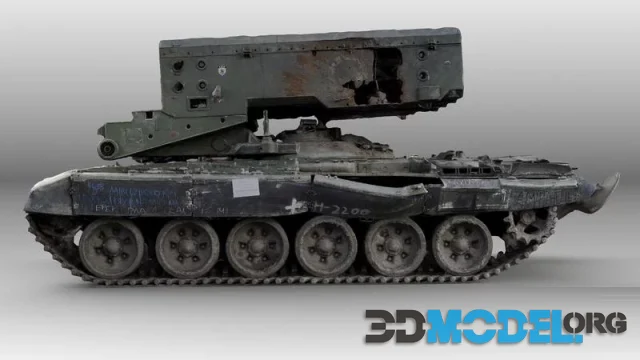 The Damaged TOS-1A Buratino is a realistic 3D model that represents a damaged version of the original TOS-1A Buratino multiple rocket launcher system.
Key features of the Damaged TOS-1A Buratino 3D model:
Design: The model accurately captures the design of the TOS-1A Buratino, showcasing its distinctive features, including the tracked chassis, launcher system, and damaged elements. It reflects the battle-worn appearance of the vehicle, with visible signs of damage and wear.
Details: The model includes intricate details such as damaged armor plating, exposed mechanical components, and broken parts. These details contribute to the realism and authenticity of the damaged vehicle.
Textures: The textures used in the model simulate the effects of damage, such as scratches, dents, and rust, adding to the overall worn-out and battle-damaged look of the vehicle. The textures are carefully crafted to enhance the visual impact and realism of the model.
Scale and Dimensions: The model is built to scale, ensuring accurate proportions and dimensions based on the original vehicle. It allows for seamless integration into various projects or simulations requiring damaged military vehicles.
Application: The Damaged TOS-1A Buratino 3D model is suitable for use in computer graphics, game development, visual effects, and military simulations. It adds a level of authenticity and realism to virtual environments and scenarios involving combat or post-battle scenes.
The Damaged TOS-1A Buratino 3D model accurately represents the battle-damaged version of the TOS-1A Buratino multiple rocket launcher system, providing a realistic and high-quality asset for various projects requiring damaged military vehicle models.
File type: MAX, FBX, OBJ
Highlight text and press
Ctrl+Enter