Stryker Assault Vehicle (PBR)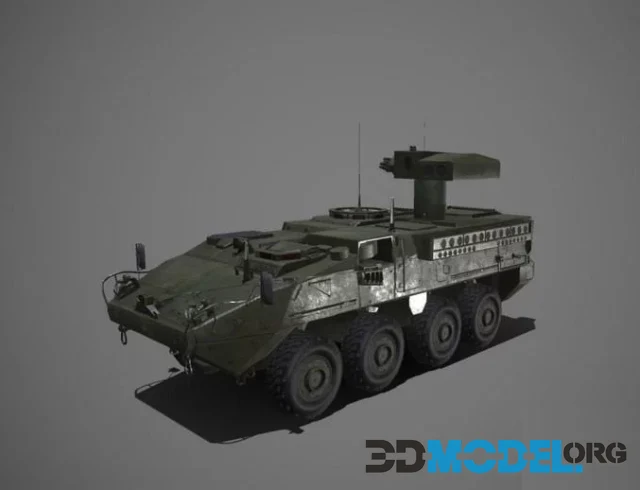 The Stryker is a family of armored fighting vehicles used by the United States Army. It is a highly versatile and modular platform designed for a wide range of roles and missions. The Stryker can be equipped with various weapon systems depending on its configuration and mission requirements.
Typical armaments include a .50 caliber M2 machine gun, a 40mm Mk 19 automatic grenade launcher, and a 7.62mm M240 machine gun.
Anti-tank guided missile systems like the TOW missile can also be mounted.
The Stryker is known for its exceptional mobility and speed. It is wheeled and 8x8, meaning it has eight wheels, all of which are driven.
It is capable of on-road and off-road operations and can achieve highway speeds, making it highly deployable.
The Stryker's armor provides protection against small arms fire, artillery shell splinters, and chemical, biological, radiological, and nuclear (CBRN) threats.
The level of protection varies depending on the specific variant and any additional armor packages.
The Stryker can carry a crew consisting of a driver, a commander, and a gunner, depending on the variant.
It can transport a squad of infantry, typically nine soldiers, in the rear compartment.
Variants with different configurations are used for roles such as medical evacuation, command and control, and reconnaissance.
There are numerous variants of the Stryker designed for various purposes, including infantry carrier, reconnaissance, medical evacuation, engineering support, and more.
Each variant is equipped with mission-specific equipment and systems.
The Stryker is designed for a wide range of roles and missions, including infantry transport, reconnaissance, fire support, and command and control.
It is highly adaptable and can be modified for specific operational requirements.
The Stryker has been used by the U.S. Army and has also been exported to other countries.
Over the years, the Stryker platform has undergone upgrades and modernization efforts to enhance its capabilities and protection.
The Stryker family of vehicles has played a significant role in the U.S. Army's mechanized infantry forces, providing mobility, firepower, and protection. Its modular design allows it to be quickly reconfigured to meet the demands of different mission scenarios.
Quality 3d-model with PBR-textures in the archive.
File type: MAX, FBX, OBJ
Highlight text and press
Ctrl+Enter