Fiat ABARTH 695SS 1963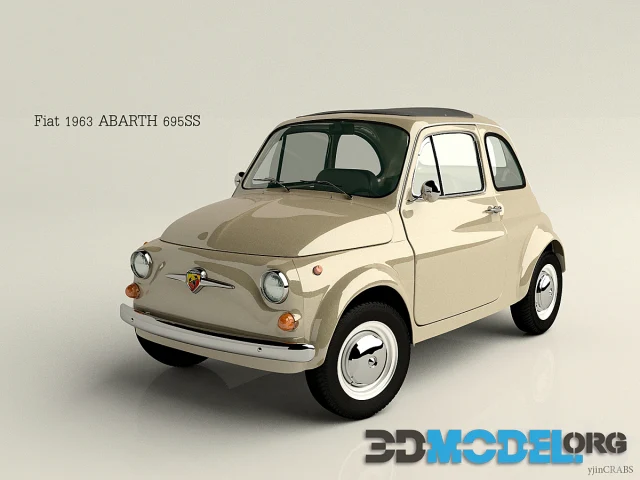 The Fiat Abarth 695 SS (SS stands for "Stradale Seicento" or "Street Six Hundred" in Italian) is a legendary compact sports car produced by Abarth, an Italian tuning and racing car company known for its association with Fiat.
1. Compact Size: The Fiat Abarth 695 SS is based on the Fiat 600, a compact city car. Abarth took the basic Fiat 600 and transformed it into a high-performance sports car.
2. Engine: One of the most significant features of the Abarth 695 SS is its engine. It is equipped with a modified and highly tuned version of the original Fiat 600's 4-cylinder engine. This engine featured Abarth's performance enhancements, including upgraded carburetors, a different camshaft, and other modifications, resulting in increased power output.
3. Power: The engine in the Abarth 695 SS produced significantly more power compared to the standard Fiat 600. It was capable of producing around 38 to 41 horsepower, depending on the exact specification.
4. Lightweight: The Abarth 695 SS featured lightweight construction, including the use of aluminum body panels, which helped improve performance and handling.
5. Performance: Thanks to its small size, lightweight construction, and tuned engine, the Abarth 695 SS offered impressive performance for its time. It was capable of reaching a top speed of around 90 miles per hour (145 kilometers per hour) and had agile handling characteristics.
6. Racing Heritage: Abarth was heavily involved in motorsport, and the Abarth 695 SS was no exception. Many examples of this model were used in various racing events, including hill climbs, rallies, and circuit races, where they achieved success in their respective categories.
7. Limited Production: The Abarth 695 SS was produced in limited numbers, making it a rare and collectible car today. Its exclusivity adds to its allure among automotive enthusiasts.
8. Styling: The Abarth 695 SS featured distinctive styling elements, including Abarth badges, sporty wheels, and unique paint schemes, which set it apart from the standard Fiat 600.
9. Legacy: The Fiat Abarth 695 SS is celebrated for its contribution to the world of compact sports cars. It remains an icon of Abarth's performance heritage.
10. Collector's Item: Due to its rarity and historical significance, the Abarth 695 SS has become a sought-after collector's item among automotive enthusiasts and collectors.
Please note that the specific details and features of individual Abarth 695 SS models may vary depending on the year of manufacture and any modifications made over the years. This iconic Abarth model is remembered for its blend of performance and style, making it a classic in the world of automotive history.
3d-model is executed in detail and quality.
File type: MAX, FBX, OBJ
Highlight text and press
Ctrl+Enter