Ren'Py: what is this engine and what does it do?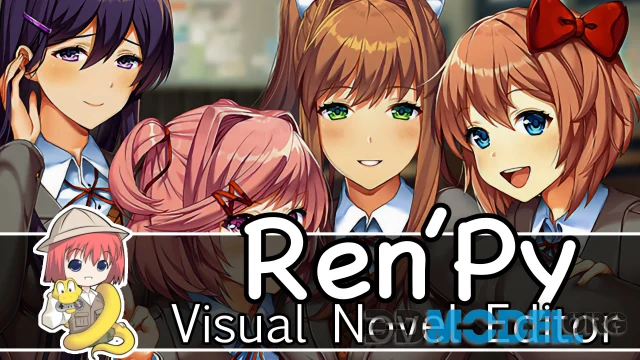 Ren'Py is a simple and flexible engine for creating visual novels. At the moment it is one of the best solutions for game development in this genre. It is open-source and can be freely modified and used for both non-commercial and commercial purposes. Games based on this engine do not necessarily need to be open source.
Ren'Py is distributed free of charge. But still the creators of the engine ask game developers to add the game to their common catalog. Also a prerequisite for the free use of the engine is a mention of the authors in the game credits.
The process of creating a game with Ren'Py and the features of the engine
If you are a beginner and know nothing about programming, you should be able to cope with making simple games with this program. But for more complex games you'll need to use the Python programming language. You usually have to go so far when you want to include multimedia content into your game, such as GIFs and VFX. By the way, you can find great
special effects
for your game on our site if you visit the corresponding section.
Ren'Py has a lot of cool features that make this engine stand out from the others. Here you can create a visual novel and introduce even some minigames in it.
If we talk about what genres of games it's best to create on Ren'Py, then of course it's visual novels. In fact, you can hardly create a radically different project here, but you can still incorporate some gameplay elements from other genres.
With Ren'Py you can make a visual novel containing:
An elaborate main menu with customization, save and load game options;

A quick save and quick load feature;

Possibility to roll back the game stage, if any critical error occurs;

The ability to load images in the background to avoid freezes or lags because of memory leaks;

Changing the display mode from full screen to windowed and vice versa;

Ability to skip text, either read (repetitive) or not;

Ability to hide text in such a way that it is impossible to see the images behind it;
The function of fine-tuning music and ambient.

Cons?
Yes, Ren'Py has them. Well, like any engine. But the good news is that there really aren't as many as there could be. From something clearly conspicuous we can distinguish a rather unfriendly interface. In fact, the game will be developed in Windows' Notepad. Another thing worth noting is the fact that Ren'py (formally) does not support animation. Of course, you can upload a few thousand PNGs to create a feeling of animation or you can use GIFs, so this problem is kinda solvable.
As for the graphics, its quality depends entirely on the developer. You can use both author's graphics, that is drawings on a graphical tablet, and ready
2D-assets
and sprites - all you can find on our website.
By the way, Ren'Py is a cross-platform engine. You can create a game for Windows, MacOS, Linux, HTML5, Android, iOS, and that's not the whole list.
What else is interesting and attractive about Ren'Py? Well, for example, the fact that the engine is localized for a variety of languages. There are quite a lot of them in the database, but if you can't find your native language that you're most used to, you can simply download the fan translation from the Internet.
What Ren'Py games exist?
Titles on this game engine have been created in countless numbers. Despite the fact that these are mostly quite niche and local projects, there are also extremely recognizable games. For example, "Katawa Shoujo" or "Doki Doki Literature Club!".
Read more:
Highlight text and press
Ctrl+Enter