General Atomics MQ-9 Reaper Hunter Killer UAV (PBR)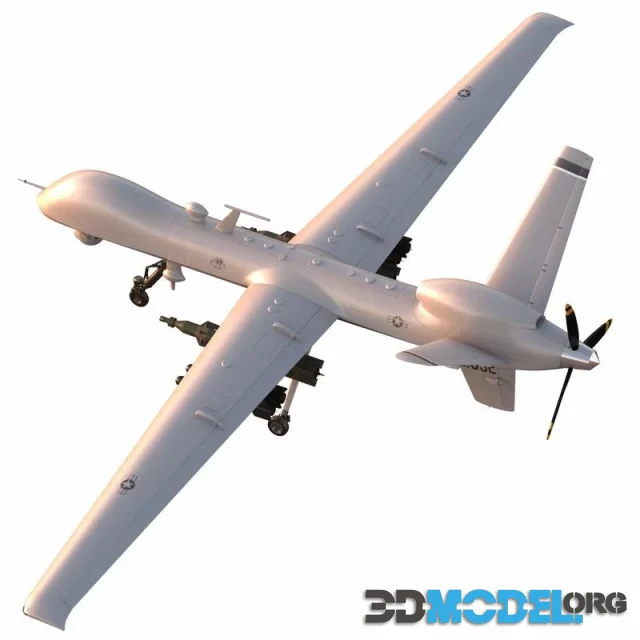 The MQ-9 Reaper (also known as the Hunter Killer UAV) is an unmanned aerial vehicle (UAV) developed by General Atomics Aeronautical Systems. It is a strike and reconnaissance platform capable of performing a wide range of missions.
Key features of the MQ-9 Reaper:
Dimensions and weight: The MQ-9 Reaper is about 11 meters long, with a wingspan of about 21 meters and a height of about 3 meters. The maximum takeoff weight is about 5.5 tons.
Engine: Nearly 900 horsepower Honeywell TPE331-10GD jet engine provides enough speed and lift to get the job done.
Range and flight time: The MQ-9 Reaper can fly up to 1,800 kilometers and conduct missions up to 27 hours. This allows it to cover large areas and carry out long missions.
Weapons: The Reaper can be equipped with a variety of weapons, including Hellfire guided missiles, GBU-12 Paveway bombs, and more. This makes it an effective strike weapon capable of hitting ground targets.
Sensors and Intelligence Systems: The MQ-9 Reaper is equipped with advanced sensors, including multi-purpose radar, optical and IR cameras, and electronic intelligence systems. This allows him to receive intelligence information, detect and track targets on the ground.
Control and communication: Reaper is controlled remotely by operators from the ground control center. It provides reliable communication and data transmission between the UAV and the operator.
The MQ-9 Reaper is one of the most common and widely used unmanned aerial vehicles in many countries. It is effectively applied in counter-terrorism, intelligence, border control and other.
Realistic GameReady 3d-model for any projects.
File type: MAX, FBX, OBJ
Highlight text and press
Ctrl+Enter