Sherman M4A2 Tank GameReady (PBR)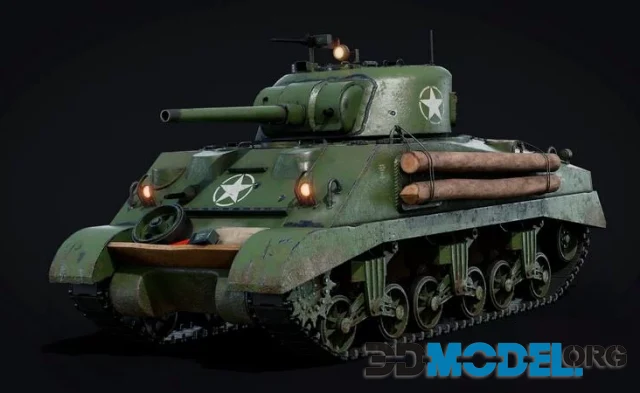 The Sherman M4A2 Tank is one of the most beloved tanks in history. Produced in large numbers, it served as a mainstay of many armies during WWII - including Germany's Wehrmacht, Soviets and US Army.
The M4A2 is a 75mm gun tank featuring an uninterrupted and welded front glacis that sloped at 47 degrees. This design eliminated protrusions of the previous model's front glacis and enabled T45 APCR ammunition for this gun's chamber.
It was also the first Sherman to use diesel engines, adapted from General Motors' 6-71 marine engines. These proved more dependable and cost-effective than their gas-powered predecessors.
These engines feature a rear engine deck designed for optimal clearance from the turret bustle. More than 8000 units were produced, mostly by US Marines but also lend-lease partners like Britain and the Free French Forces.
The M4A2, in comparison to other wide-tracked German tanks such as the Panther and Tiger, offered less ground pressure on soft or sandy terrain. A study conducted by the 2nd Armored Division revealed that its narrow tracks provided only 14 pounds per square inch of pressure versus 15 pounds offered by its wider counterparts.
The M4A2 featured several improvements compared to its predecessors, the M4A1 and M4. For one, its hull was welded, with later models having a 47-degree sloping angle instead of 56deg which eliminated shot traps created by the earlier model's front glacis. This enhanced its survival capabilities against various weapons like anti-tank guns, mines and infantry rifles.
Realistic 3d-model for various projects.
File type: MAX, FBX, OBJ
Highlight text and press
Ctrl+Enter