IS-2 Tank GameReady (PBR)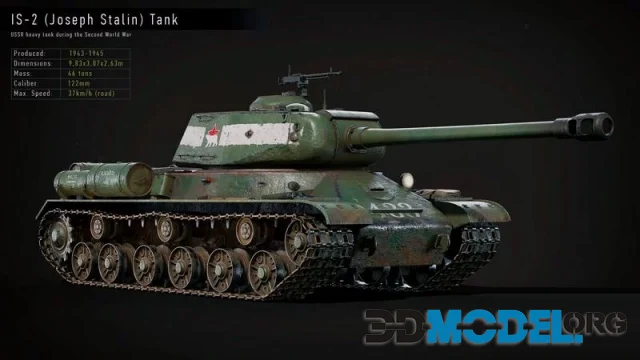 The IS-2 Tank was the largest and most powerful heavy tank in Soviet Union, used by the elite Guard Tank Brigades. Its ability to destroy German tanks such as Panthers and Tigers rendered it unbeatable.
In late 1943, the first IS-2s were constructed. By 1944, however, they had undergone further modernization with Object 252U, featuring an improved turret, upgraded 122mm gun and additional sloped armor on sides and rear.
Due to its heavy design, the IS-2 had a significantly reduced mobility. While this may be an issue in Realistic, experienced players who have operated similar vehicles before should not find this issue a concern.
To combat this, apply bushes to the upper frontal hull and its adjacent curved sides (which tend to be weak points for enemies). Doing so will create confusion and delay their reaction time as well as their aim, giving you valuable seconds before they fire back at you.
Be mindful when firing at mediums, as the IS-2 is vulnerable to their short 75 mm shells that go straight through and explode on the other side, knocking out all crew. Furthermore, volumetric shells should also be avoided since they may scratch the barrel before impacting with the gun mantlet, decreasing penetration and speed of fire significantly.
The IS-2 can quickly run out of ammunition, so it's wise to bring extra rounds with you. Load your centre floor rack before the match begins in order to avoid having to return fire later on in the game.
Realistic 3d-model with textures.
File type: MAX, FBX, OBJ
Highlight text and press
Ctrl+Enter