Sd-Kfz 251 german armored figting vehicle (PBR)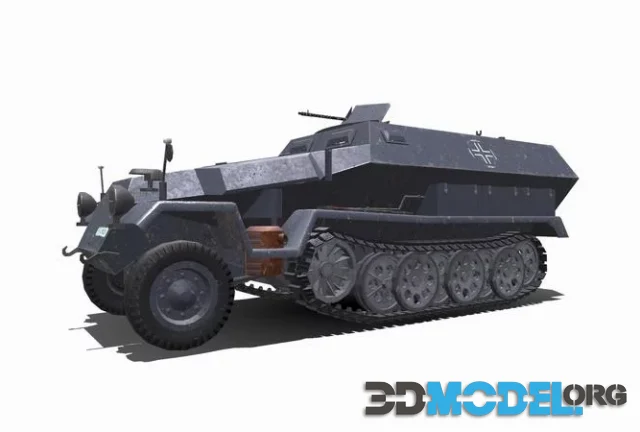 The Sd-Kfz 251 was a command variant of the standard personnel carrier halftrack used by first battalions of panzer divisions as an infantry support vehicle. These command halftracks were equipped with a 37mm Pak-36 anti-tank gun for protection.
Throughout the war, the 251 served with various panzergrenadier, reconnaissance, artillery and specialist units in various configurations. The Germans continuously modified this vehicle according to unit needs or local resources; some field modifications even reflected those needs.
Auto-Union A.G. of Chemnitz produced several field modifications, such as a prototype vehicle with an integrated Schwebelafette or "gliding cradle," in boxlike construction, and hybrid vehicles with fully open rears. Some of these hybrids were equipped with an affixed 60 cm by 1500 m infrared searchlight for night attack Panzerregiments equipped with IR Panthers or Vampire night assault troops using portable infrared equipment.
These command halftracks were also equipped with a 7.92mm Pak-40 anti-aircraft gun, which was mostly employed against enemy aircraft but could occasionally be employed against tanks and other armored targets.
Quality 3d-model with textures.
File type: MAX, FBX, OBJ
Highlight text and press
Ctrl+Enter