BTR-82 armored personnel carrier (PBR)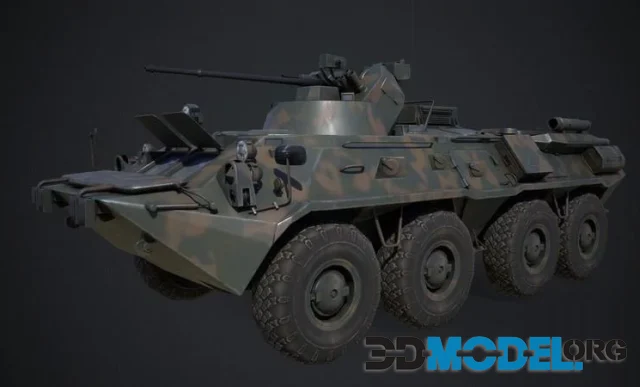 The BTR-82 is a Russian-made armored personnel carrier (APC) designed for transporting troops and providing them with protection on the battlefield. The BTR-82 is typically armed with a 30mm 2A72 automatic cannon, which is capable of engaging light armored vehicles and infantry targets.
It is also equipped with a coaxial PKT 7.62mm machine gun for anti-infantry and anti-aircraft defense.
Some variants may have anti-tank guided missile launchers as well.
The BTR-82 is known for its mobility. It is powered by a 300 horsepower diesel engine, providing a top road speed of around 80 km/h (50 mph). It has good off-road capabilities, allowing it to traverse various terrains.
The vehicle is amphibious and can be fitted with optional equipment for water crossings.
The BTR-82 features composite armor, which provides protection against small arms fire, artillery shell splinters, and chemical, biological, radiological, and nuclear (CBRN) threats.
The level of protection can vary depending on the specific variant and any additional armor packages.
The BTR-82 typically has a crew of three: a driver, a commander, and a gunner.
It can carry up to seven fully equipped infantry personnel in the rear troop compartment.
There are several variants and modifications of the BTR-82 designed for various purposes, including command and control, medical evacuation, reconnaissance, and more.
The BTR-82 is used by the Russian military and has also been exported to several countries.
The primary role of the BTR-82 is to transport troops quickly and safely to and from the battlefield.
Its firepower allows it to engage enemy infantry and lightly armored vehicles.
The BTR-82 is part of a series of wheeled armored vehicles, and its design has undergone several modernization efforts to enhance its capabilities over the years.
GameReady 3d-model for any projects.
File type: MAX, FBX, OBJ
Highlight text and press
Ctrl+Enter