BA-10 Heavy Armored Car (PBR)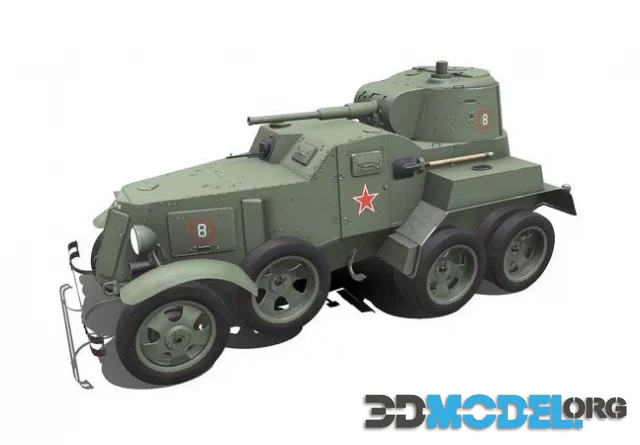 The BA-10 Heavy Armored Car was developed in the Soviet Union in 1938 and produced until 1941. It was the most produced pre-1941 heavy armored car - 3311 vehicles were constructed across three versions: BA-10, BA-10M (improved version with new radio), and the BA-10ZhD (equipped for dual rail/road use).
The BA-10 was similar to its predecessor, the BA-3. This heavily armed armoured car featured a 45mm main gun that could easily take out other vehicles such as Panzer I tanks and light armored cars.
Armament was completed with a DT machine gun mounted in the turret. This weapon could be operated by the Tank Gunner and fired an array of HE shells and AP rounds with a capacity of 200 rounds before reloading.
The BA-10 was equipped with auxiliary tracks that attached to the rear tandem wheels, turning it into a half-track. Early models had these strapped to their fenders while later models stored them inside an enclosed compartment at the back of the hull.
This kit provides an accurate representation of this vehicle, though there are some fit issues and it would have been even better if a few spare parts had been included. Although not an exact replica, the kit still deserves your consideration if you are interested in Russian armored vehicles.
Realisti 3d-model for any projects.
File type: MAX, FBX, OBJ
Highlight text and press
Ctrl+Enter