BTR 4E Bucephalus 2011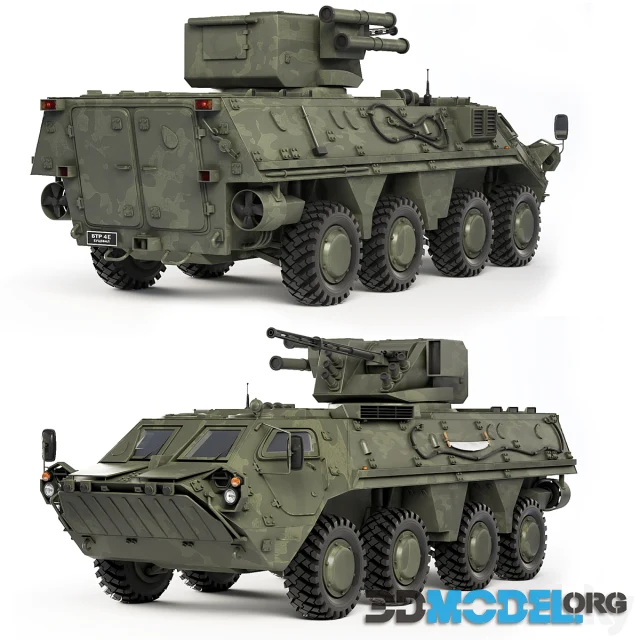 The BTR-4E "Bucephalus" is an armored personnel carrier (APC) designed and manufactured in Ukraine. Here are some key features and information about the BTR-4E:
Origin: The BTR-4E is produced by the Ukrainian defense industry and is designed for use by military and security forces.
Armor: The vehicle is typically equipped with composite armor, which provides protection against small arms fire, artillery shell splinters, and chemical, biological, radiological, and nuclear (CBRN) threats.
Mobility: The BTR-4E is a wheeled APC, which means it is mounted on wheels rather than tracks. It is designed for high mobility on roads and off-road terrain. The vehicle's mobility is facilitated by its powerful engine and suspension system.
Armament: The BTR-4E can be armed with various weapons systems depending on the configuration and customer requirements. It may include machine guns, automatic grenade launchers, anti-tank guided missile systems, and more.
Transport Capacity: The BTR-4E is designed to carry a squad of infantry troops. The exact number of personnel it can transport depends on its specific configuration but typically ranges from 7 to 11 soldiers.
Amphibious Capability: One of the notable features of the BTR-4E is its amphibious capability. It can be deployed for river crossings and amphibious assault operations, making it versatile for a range of military scenarios.
Communication and Navigation: The vehicle is equipped with advanced communication and navigation systems to ensure effective command and control on the battlefield.
Variants: There are different variants of the BTR-4E, including command vehicles, medical vehicles, and reconnaissance vehicles, among others. Each variant is tailored to specific roles within a military force.
Export: The BTR-4E has been offered for export to various countries and has garnered interest from international customers looking to modernize their armored vehicle fleets.
Modernization: The BTR-4E is part of Ukraine's efforts to modernize its armed forces and offer advanced military equipment to the international market.
High-polygon 3D model for realistic projects.
File type: MAX, FBX, OBJ
Highlight text and press
Ctrl+Enter