Uran-9 combat multifunctional robotic complex (PBR)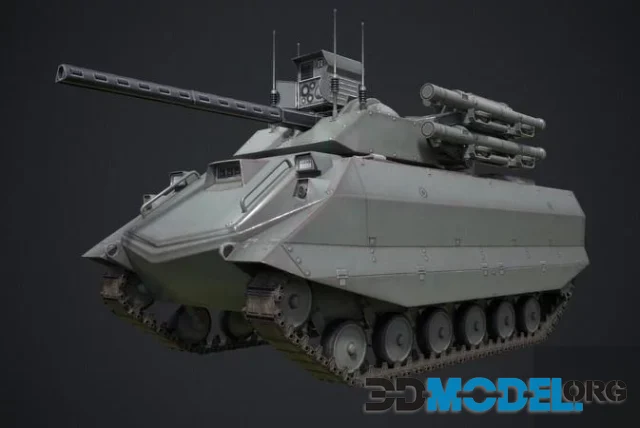 The Uran-9 is a combat multifunctional robotic complex developed and manufactured by Russia. It's designed for a variety of military applications and is notable for being an unmanned ground combat vehicle.
Unmanned Ground Vehicle (UGV): The Uran-9 is operated remotely, meaning it doesn't have a human crew on board. Instead, it's controlled by operators located at a safe distance from the battlefield. This reduces the risk to human soldiers in combat situations.
Armament: The Uran-9 is equipped with a range of weaponry, including anti-tank guided missiles (ATGMs), machine guns, and automatic grenade launchers. These armaments provide it with the ability to engage a variety of targets, including armored vehicles and enemy infantry.
Surveillance and Reconnaissance: The complex features various sensors and cameras, allowing it to gather intelligence, conduct reconnaissance missions, and provide real-time situational awareness to its operators. This information can be crucial for military decision-making.
Remote Control: Operators control the Uran-9 remotely, typically from a secure command post or vehicle. The vehicle's communications systems enable it to receive commands and transmit data over extended distances.
Modular Design: The Uran-9 is designed with modularity in mind, allowing for the integration of different mission-specific equipment and payloads. This modularity makes it adaptable to various combat scenarios and roles.
Autonomous Features: While it's primarily operated remotely, the Uran-9 has some autonomous capabilities, such as obstacle avoidance and waypoint navigation. These features enhance its ability to operate in complex and dynamic environments.
Urban Combat: The Uran-9 is particularly suited for urban combat, where the risk to human soldiers can be high. Its remote operation capability makes it valuable for clearing buildings, providing covering fire, and engaging threats in dense urban environments.
Deployment: The complex can be transported to the battlefield on various types of military transport vehicles. Once deployed, it can be controlled remotely from a command vehicle or a specialized control station.
Usage: The Uran-9 has been tested and used by the Russian military. It's intended to perform a range of roles, including reconnaissance, fire support, and anti-tank missions.
It's worth noting that unmanned ground vehicles like the Uran-9 represent a growing trend in military technology, where robotics and automation are being utilized to augment the capabilities of armed forces while reducing the risk to human personnel in combat situations.
Realistic GameReady 3d-model for any projects. PBR-textures included.
File type: MAX, FBX, OBJ
Highlight text and press
Ctrl+Enter