How to make a quality weapon for the game?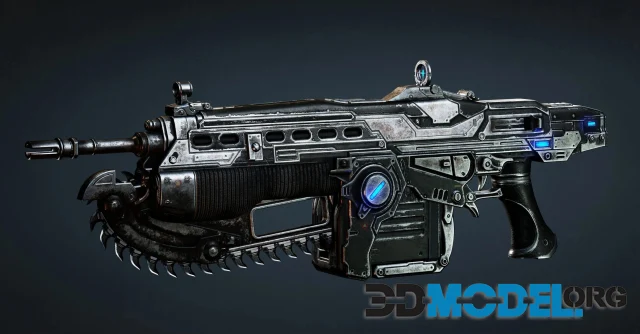 We've all seen weapons in real life and science fiction, and we all understand their purpose. But what does it take to implement it well in a video game? Stick to these simple tips and you'll be sure to make a beautiful and well-designed weapon.
Model the silhouette
Modeling the silhouette is one of the most important steps. You won't have to worry about all sorts of technical limitations at this stage. The main thing is to focus on the basic silhouette and how the shapes fit together. Your goal now is to make sure that the shapes fit well and don't look weird and out of place.
Think about functionality
When you're done with the silhouette and all the shapes fit together well, start separating them out and thinking about functionality. Find the main areas and focus as much attention on them as possible. Let's say you have a gun, and you've determined that the most important parts are the buttstock, the grip, and the barrel. Think about how these areas relate to each other and how they will function within the game.
It is very important in any design to maintain authenticity, time period, and functionality. If you're making a weapon for a distant future setting, you should keep in mind that it will probably have a lot of different contrivances. With the knowledge of this in mind, that's what you should base your final weapon design on.
Mix concepts
To create an interesting concept, you can look at inventions or ideas from the past and try to mix them up. Using such cohesive elements will help you quickly understand the purpose and function of your weapon. Some design elements can even dictate gameplay - for example, if your gun has something like a generator, you can make it impossible to shoot without it, so reloading will be based on replacing that generator rather than changing the ammo magazine.
Model the remaining gun parts
How the player will hold the gun is the most important element in making it feel real. Thinking about the functionality of the weapon helps to decide what type should be, for example, the stock and handle.
Texture everything
The easiest way to do this is to texture in stages. Start by putting modern and clean textures on first, even if the setting calls for your weapon to be dirty and worn out. That way you'll have an understanding of where to aim. By the way, you can find a variety of
textures
on our website - they were all made by professionals, so they'll probably fit your weapon perfectly.
Once you've applied a clean texture to the model, it's time to add some wear and tear to it. That is, of course, if that's in your plans.
Adding decals happens at the final stage of weapon creation. That is, after you already have a more or less finished prototype. can help add uniqueness to the weapon. At this point you should think again about the setting and the time period of the game. Think about who is going to use the weapon - it will definitely help to come to a decision.
Let's say you are making a weapon for a game that is being developed in a steampunk setting. If so, try layering wood and iron textures with a bunch of gears, then covering it all with pin-up girls or gear decals.
Not sure if you can create a good weapon for a video game? Then you can dig in our catalog - you'll find here a lot of elaborated
guns models
, which can be downloaded for free.
Read more:
Highlight text and press
Ctrl+Enter