Ferrari 488 GTB sports car restyled (PBR)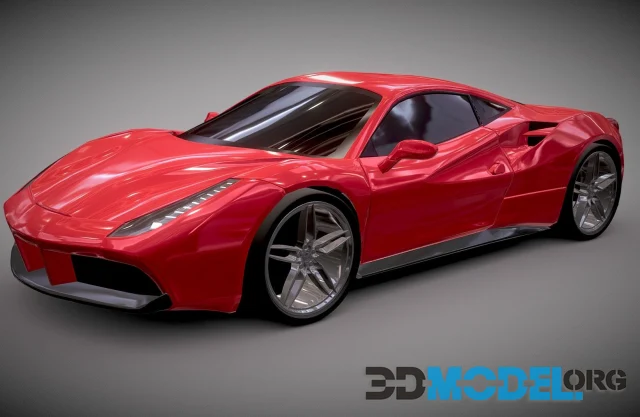 The Ferrari 488 GTB is the newest sports car from one of the world's premier supercar manufacturers. This mid-engined, rear-wheel drive vehicle boasts an extraordinary 3.9-liter twin turbo V8 engine producing 661 horsepower.
Power is transmitted to the rear wheels through a seven-speed dual-clutch automatic transmission that enables Ferrari drivers to shift gears quickly, accelerating from 0-62mph in 3 seconds flat. Top speed is set at 205mph.
Inside the Ferrari 488 GTB is a driver-focused cabin that feels tailored to racing drivers. Fine leather, suede and carbon fiber adorn every surface inside.
Two large digital screens flank the large central tachometer, one on either side displaying information such as turbo boost, tyre temperature and trip details; while the right handles media playback, phone calls and navigation. Most functions can be controlled with buttons and knobs but it takes some practice to understand all of their intricacies.
The steering wheel itself is sculptured, featuring a red centre ring. The 488 is highly responsive to throttle and brake inputs, offering sharp steering that's just as enjoyable at legal road speeds as it is on the track.
As with other Ferraris, the 488 comes standard with a variety of tech features like Apple CarPlay and Android Auto integration. Furthermore, Ferrari provides an extensive warranty with seven years of complimentary scheduled maintenance - something Lamborghini does not provide.
Realistic 3d-model for various projects.
File type: OBJ
Highlight text and press
Ctrl+Enter