Pontiac Bonneville1958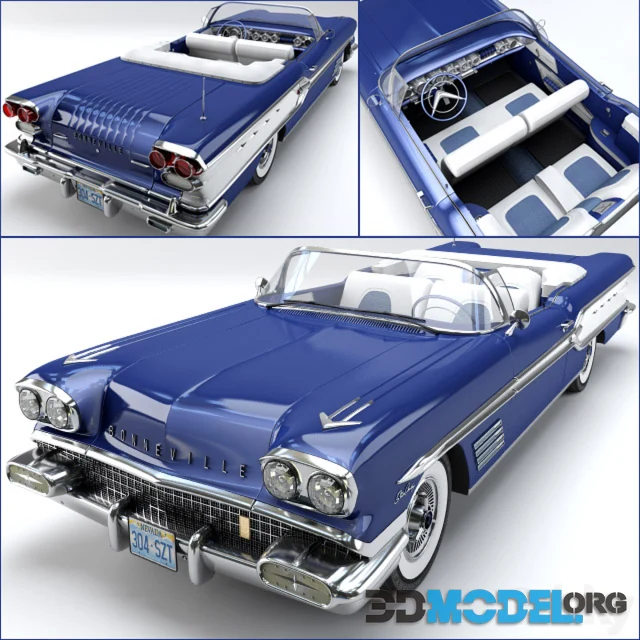 The 1958 Pontiac Bonneville was a classic American car that was part of Pontiac's full-size lineup during the late 1950s.
1. Stylish Design: The 1958 Bonneville featured the bold and extravagant styling that was characteristic of American cars of that era. It had a distinctive front end with quad headlights, a wide grille, and prominent chrome accents.
2. Convertible Model: The Pontiac Bonneville was available as a convertible, and it was known for its open-top driving experience, making it a sought-after choice for those who enjoyed cruising in style.
3. Powerful V8 Engine: Under the hood, the 1958 Bonneville was equipped with a powerful V8 engine. The standard engine was a 370 cubic-inch (6.1-liter) V8 that produced around 285 horsepower, which was a significant amount of power for the time.
4. Tri-Power Carburetion: A notable feature of the 1958 Bonneville's engine was the availability of Tri-Power carburetion. This optional setup included three two-barrel carburetors, which increased the engine's power output. It was an iconic feature often associated with high-performance Pontiacs of the era.
5. Interior Comfort: Inside, the Bonneville offered a comfortable and stylish interior with bench seating. It could accommodate up to six passengers, making it a practical choice for family outings.
6. Tailfins: Like many cars of the late 1950s, the 1958 Pontiac Bonneville featured distinctive tailfins at the rear. These tailfins were a design trend of the time and added to the car's overall visual appeal.
7. Limited Production: The Pontiac Bonneville was produced in limited quantities, making it a relatively rare and collectible model today. Its exclusivity added to its appeal among collectors and enthusiasts.
8. Collectible Status: Today, the 1958 Pontiac Bonneville is highly sought after by classic car collectors and enthusiasts. Well-preserved examples, especially convertibles in good condition, can command high prices in the collector car market.
The 1958 Pontiac Bonneville represents an era of American automotive design characterized by flamboyant styling and powerful V8 engines. It continues to be appreciated for its classic looks and its role in automotive history.
Hi-Poly 3d-model with customized materials and textures in the archive.
File type: MAX, FBX, OBJ
Highlight text and press
Ctrl+Enter