KSP 58 Machine Gun (PBR)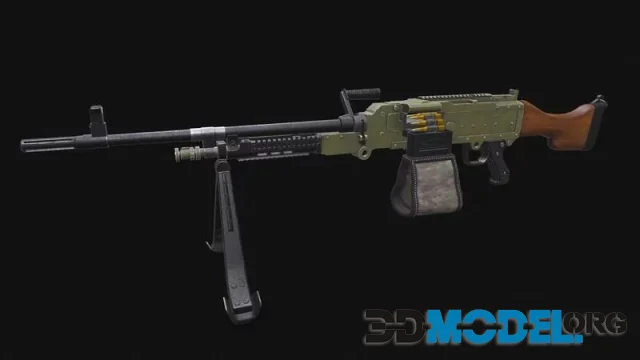 The KSP 58 Machine Gun, also known as Kulspruta 58 or Strv in Swedish, is a general-purpose gas-operated machine gun employed by the Swedish Armed Forces. It was developed from the Belgian FN MAG which in turn evolved from German MG42 and American BAR systems.
The FN MAG is an air-cooled, belt fed general purpose machine gun chambered for 7.62x51mm NATO cartridge. It comes in various versions such as infantry, aircraft and AAV (Armoured Fighting Vehicle).
It is a powerful weapon, yet it also has some drawbacks. For one, its reload time and accuracy are quite slow; furthermore, there's not much mod potential available.
Therefore, equipping the Lion Bipod is highly recommended if you plan on shooting it from a tight range. Alternatively, the FN 360 degree tripod offers exceptional accuracy and control.
The KSP 58 is an ideal starting weapon, offering good level-lock and damage without needing any DLCs. Unfortunately, it is quite expensive and requires a significant amount of reloading in order to reach its full potential.
File type: MAX, FBX, OBJ
Highlight text and press
Ctrl+Enter